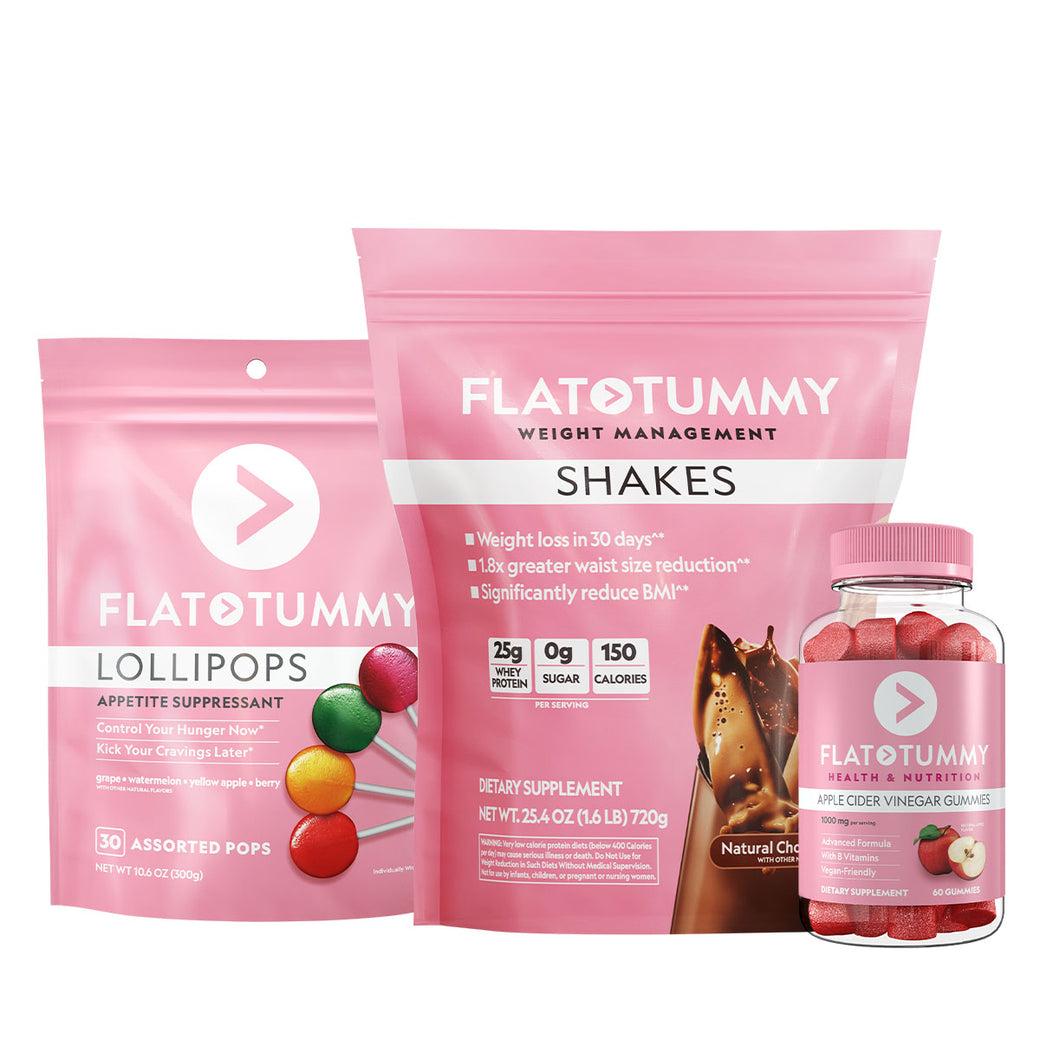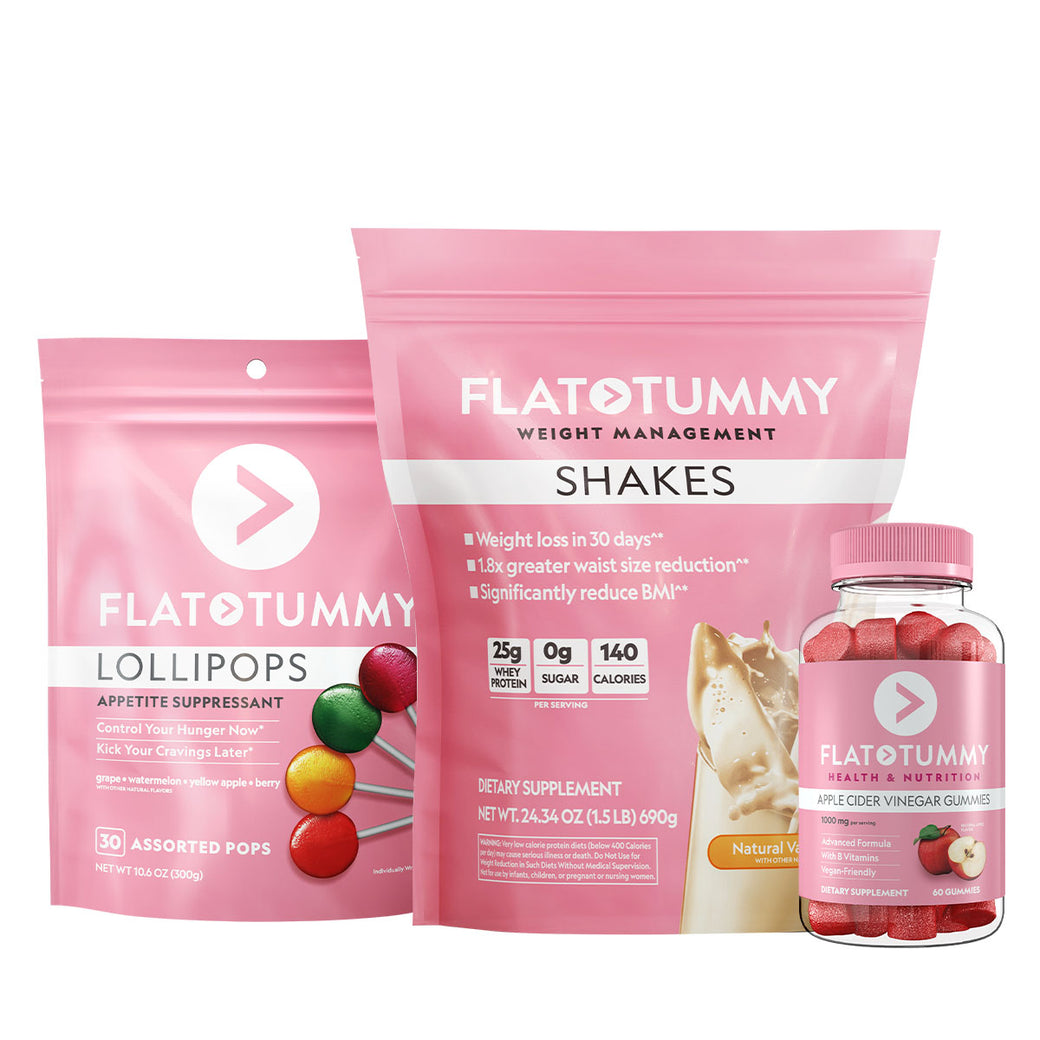 Strawberry Shakes Expiry date: 10/23
Control hunger. Promote weight loss.
Back by clinically studied Satiereal® and Super CitriMax®, these formulas work uniquely for a bundle designed to help you control hunger and promote weight loss, while gummies support digestion. Make snack-attacks and empty calories a thing of the past.*
In this bundle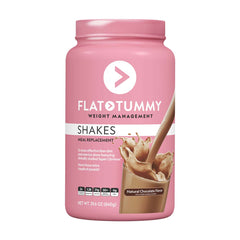 Weight Management Shakes
20 Servings
Flat Tummy Lollipops
60 Lollipops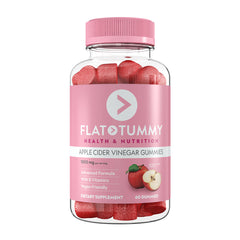 Apple Cider Vinegar Gummies
60 Gummies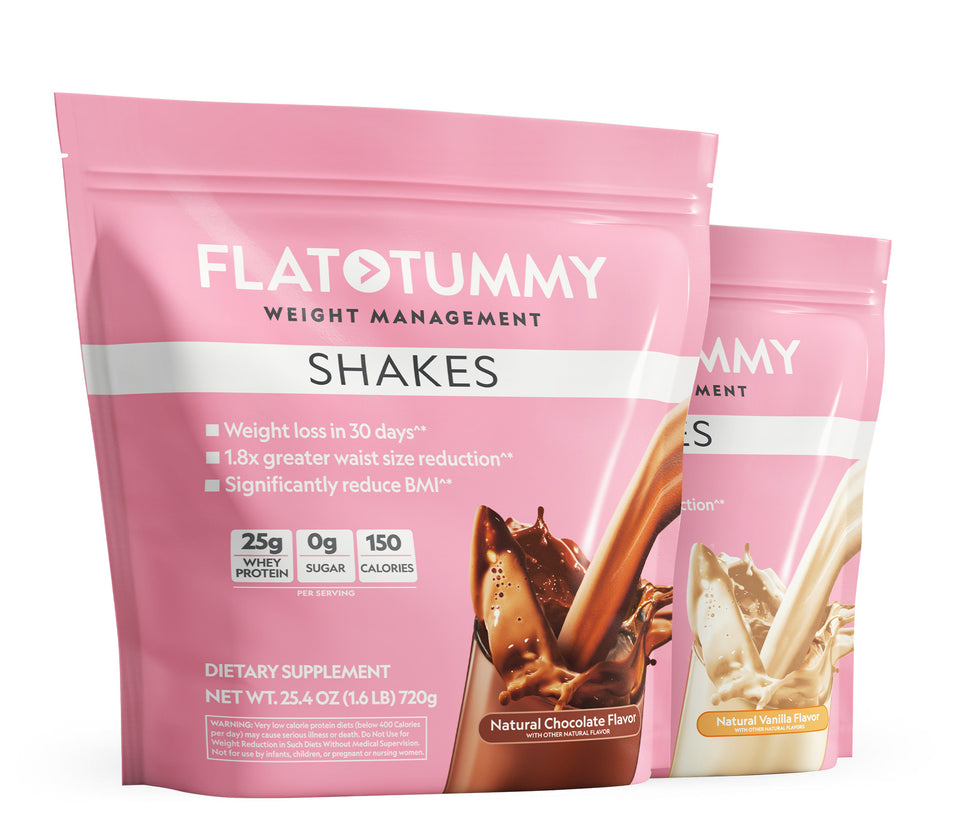 Weight Management Shakes
3× better than diet and exercise alone, Super CitriMax® promotes weight loss and appetite control.[1] Nutrient-rich superfood shakes that are suitable for vegan-friendly, keto-friendly, gluten-free, dairy-free, and soy-free diet types.
---
[1] A clinical study showed that adults who took Super Citrimax® daily for 8 weeks experienced a reduction in calories and lost more weight with moderate diet and exercise vs. the placebo group (diet and exercise alone).
---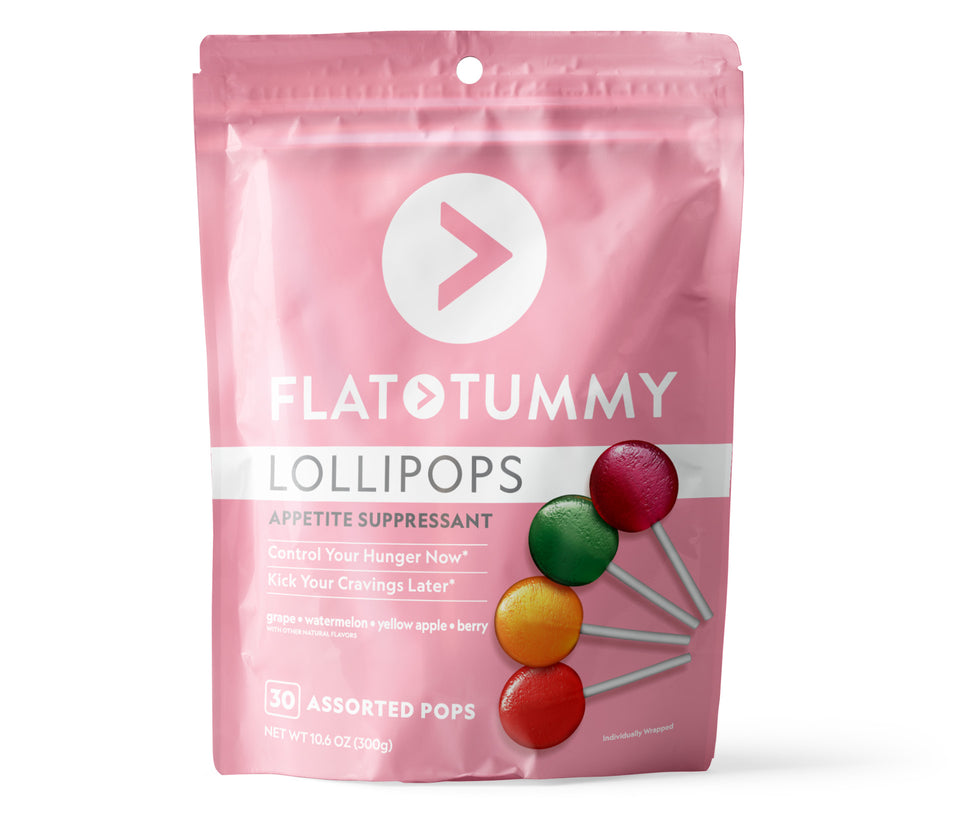 Flat Tummy Lollipops
Postpone unwanted hunger between meals. Each lollipop is loaded with Satiereal® to support satiety, which helps control food intake and cravings.
Nutrition facts

Serving Suggestion:
Eat one pop twice daily when you're hungry.

Nutrition Facts

30 servings per pack
Serving Size: 1 lollipop (10g)

| | |
| --- | --- |
| Calories | 40 |
| Amount Per Serving | % Daily Value* |
| Total Fat 0g | 0% |
| Sodium 0mg | 0% |
| Total Carbohydrate 10g | 4% |
| Dietary Fiber 0g | 0% |
| Total Sugars 8g | |
| Includes 8g Added Sugars | 16% |
| Protein 0g | 0% |

Not a significant source of saturated fat, trans fat, cholesterol, dietary fiber, vitamin D, calcium, iron, and potassium.

---

*Percent Daily Values (DV) are based on a 2,000 calorie diet

Ingredients: Sugar, corn syrup, Satiereal® saffron extract (Crocus Sativus), natural flavors, soy lecithin, natural colors.

Contains: Soy
---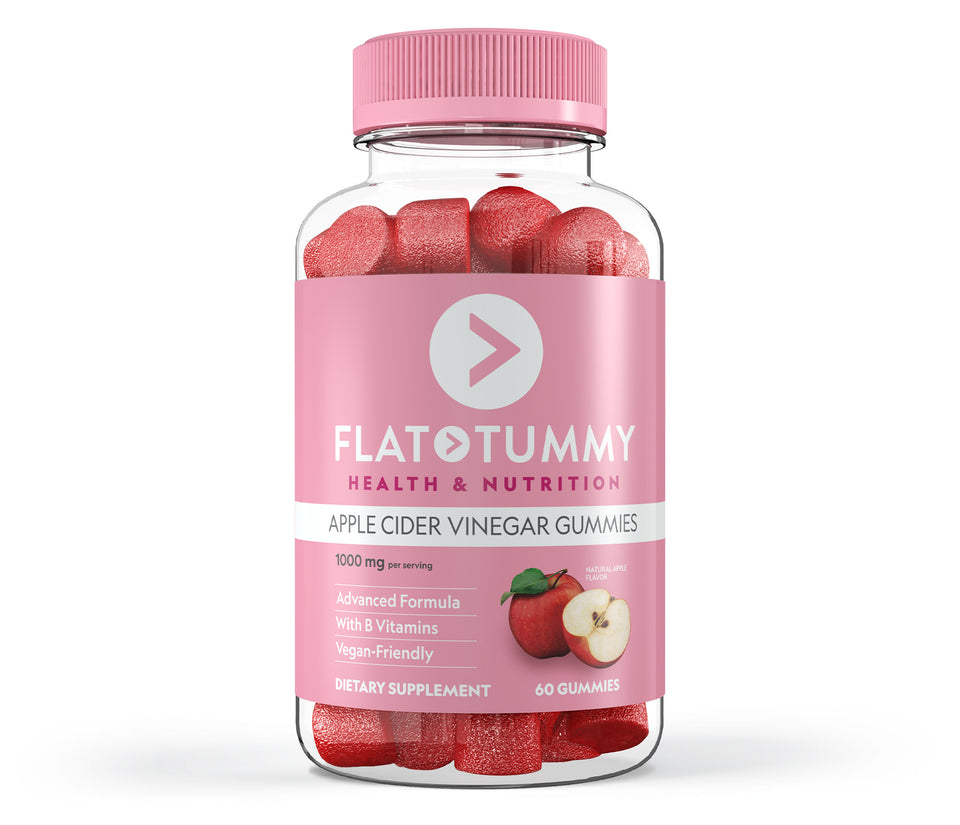 Apple Cider Vinegar Gummies
These yummy gummies help your tummy by supporting gut health, digestion, metabolic energy, and detoxification.*
Supplement facts

Suggested Use:
Take 2 gummies per day with food.

Supplement Facts

30 servings per container
Serving Size: 2 Gummies

Amount Per Serving

%DV+

Calories

20

Total Carbohydrate

5g

2%

Total Sugars

2g

**
Includes 2g Added Sugars
5%

Vitamin B6 (as Pyridoxine HCI)

1mg

59%

Folate (240mcg folic acid)

408mcg DFE

102%

Vitamin B12 (as Cyanocobalamin)

2.4mcg

100%

lodine (from Potassium lodide)

100mcg

67%

Sodium

15mg

<1%

Apple Cider Vinegar Powder

1000mg

**

Pomegranate Juice Powder

80mcg

**

Beet Root Juice Powder

80mcg

**

**Daily Value (DV) Not Established.
+Percent Daily Values are based on a 2,000 calorie diet.

Other Ingredients: Glucose Syrup, Sugar, Pectin, Sodium Citrate, Natural Flavor, Citric Acid, Purple Carrot Juice and Turmeric (Color), Annatto Extract (Color).
---
Super Ingredients
Super CitriMax®
Clinically studied and patented ingredient for weight loss and appetite control.
Satiereal®
Clinically studied active ingredient to reduce snacking and increase satiety.
Pepzyme®
Helps break down proteins for easy digestion.
BevGrad®
A super-finely milled seed resulting in a smoother, non-gritty mouthfeel and quality taste, as well as a clean label.
Go-Lou®
(Monk Fruit) ​Natural, Zero-Calorie, great tasting Sweetener.
Control Hunger Bundle
Goal Breakdown
| May help* | | | |
| --- | --- | --- | --- |
| Manage Weight | | | |
| Build Muscle | | | |
| Control Appetite | | | |
| Feel Energized | | | |
| Aid Digestion | | | |
Frequently Asked Questions
Do I use them all at the same time?

Yes. Our programs were uniquely designed for a comprehensive approach to help you achieve optimal results! Follow the instructions on the back of each program, and crush your unwanted cravings.
What kind of results can I expect?

Lollipops: A smart-way to satisfy cravings, while snacking less between meals. Shakes: Feel full for longer, control appetite and promote weight loss. ACV Gummies: A yummy gummy to help your tummy and support digestion.*
Are payment plans available?


You bet! We believe everyone should have the opportunity to get back on track, when they're ready to, which is why we accept AfterPay and Shop Pay installments. Pay ¼ of the price today and don't put off your health kick any longer.
How do I maximize my results?

For best results, we recommend completing the

Flat Tummy App 30-day challenge

during your programs. It's 100% FREE, and you'll get access to guided workouts and meal plans.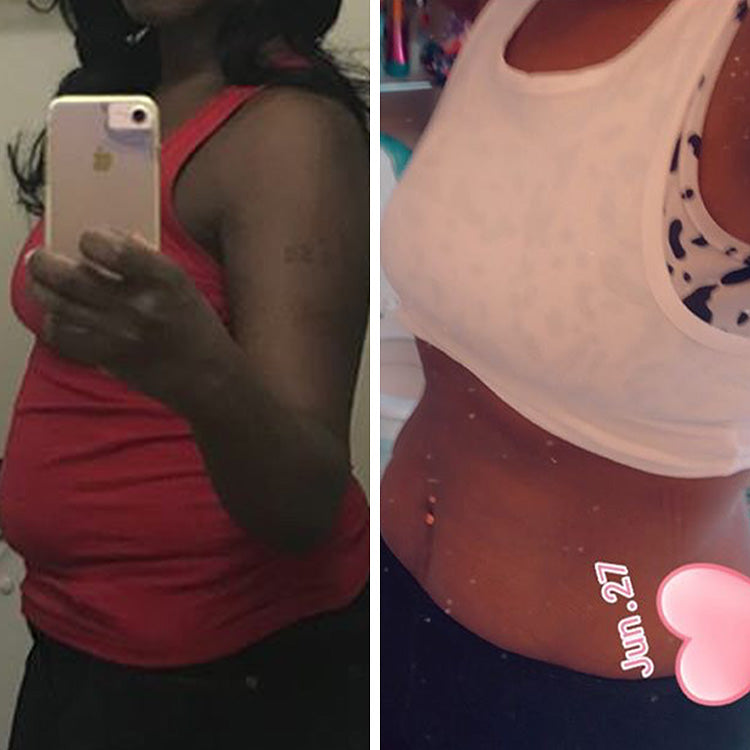 I am using the Flat Tummy Bundle set. The Lollipops are delicious and works like a charm. I LOVE THE SHAKES. The Tea is delicious!!!! Without Flat Tummy as a jump start I would have NEVER been able to start my weight loss journey. THANK YOU for providing a product where BABES CAN DO IT!!!
- Quanna B.
I had a c-section with my second daughter and I was discouraged about ever getting a flat stomach around my c-section. I ordered the bundle with the meal replacement strawberry shake, apple cider vinegar gummies, teas, and appetite suppressant lollipops. Oh My Goodness!! Within a week I could see a difference, I was more regular, AND because of that and my consistency with the shakes and apple cider vinegar gummies, my husband and mother both joined me in my daily routine. I hit 2 of my goals and I can't wait to continue to reach more!

Shane

This program is so convenient with my busy lifestyle! I started off with the 4wk shake program and was hooked!! As soon as i finished i ordered a bundle because i wanted to try everything Flat Tummy had to offer. I feel more in control over what i eat ! Thank you Flat Tummy Co for creating products that WORK!

Chriss

I'm loving my bundle!

The shake is delicious and keeps me full and the gummie supplements are so good it's easy to remember to take them! The free app is a great bonus!

Nicole

Honestly it's not bad, I love it!

I have the complete bundle. It cuts so much of my craving it's amazing. My lower stomach is flattened and I love it. I'm definitely ordering me another 4-week program.

Pamela H.

I love it!

My favorite part of the flat tummy bundle is the lollipops because they help curb those late night cravings! I'm also down 9lbs thanks to these products!

Glynda H.
Strawberry shake and lollis
The shake is pretty tasty and the lollipops are really good!
Love it !!
The tea is AMAZING !!! Haven't started my shakes yet but will within the next week!!! Thank you Flat Tummy
Love it!
I love the shakes so tasty! The lollipop lady are good too kills my sugar cravings! The tea is very cleansing and does the job !
The lollipops are bae
Omg I love the milkshake with some almond milk and the watermelon lollipops are defiantly being ordered again this afternoon
Strawberry Funny Taste but Delish Lollipops
I like the lollipops, and they do suppress my appetite between meals, but I must admit the Strawberry Shake has a sort of artificial flavor to it. I tried mixing with almond milk and I did not like the taste. I am going to try it with water and maybe some added fruits into a blender. I recommend using a blender to really dissipate the clumps and for a smooth flavor. I like how it is packed with healthy minerals and vitamins plus protein :) . Tbh , next time I think I am going to get the chocolate powder! ^_^