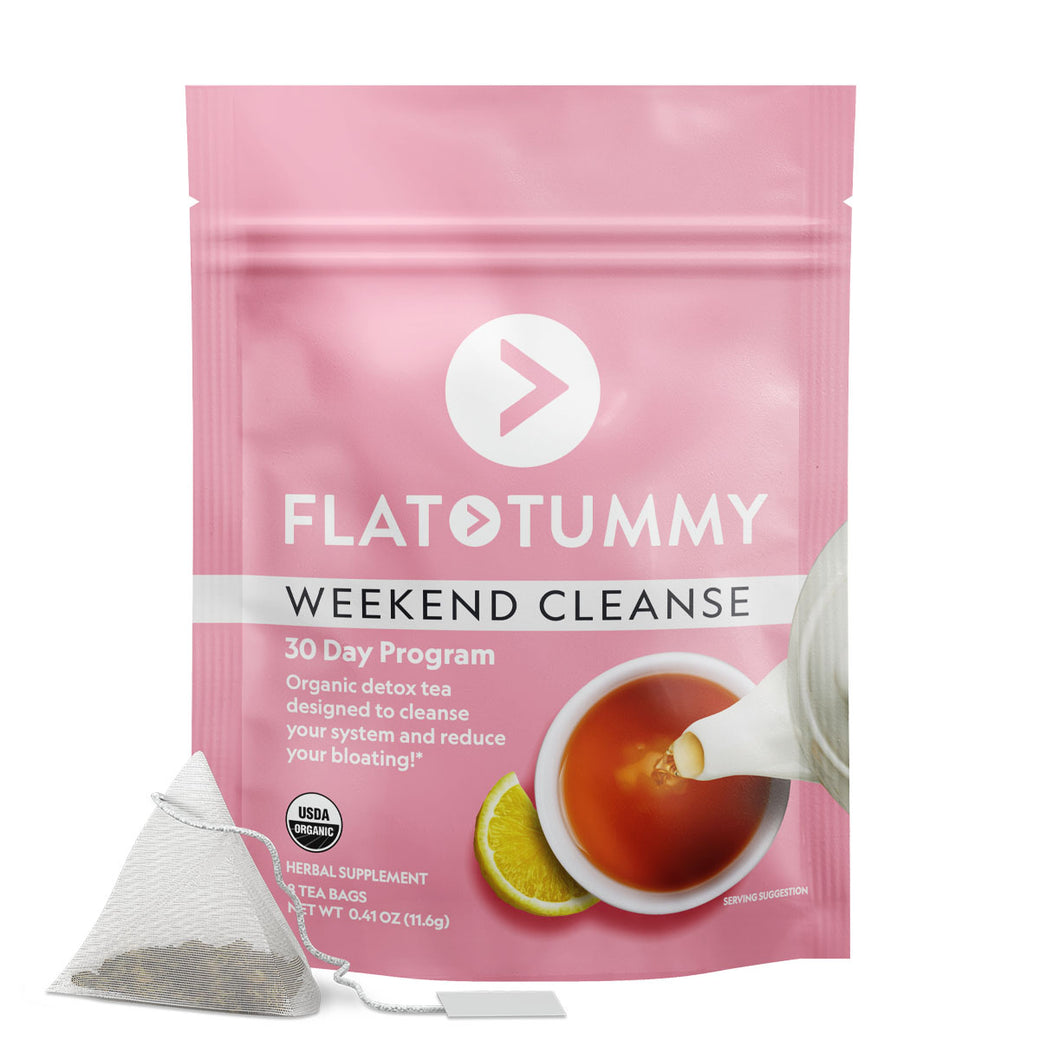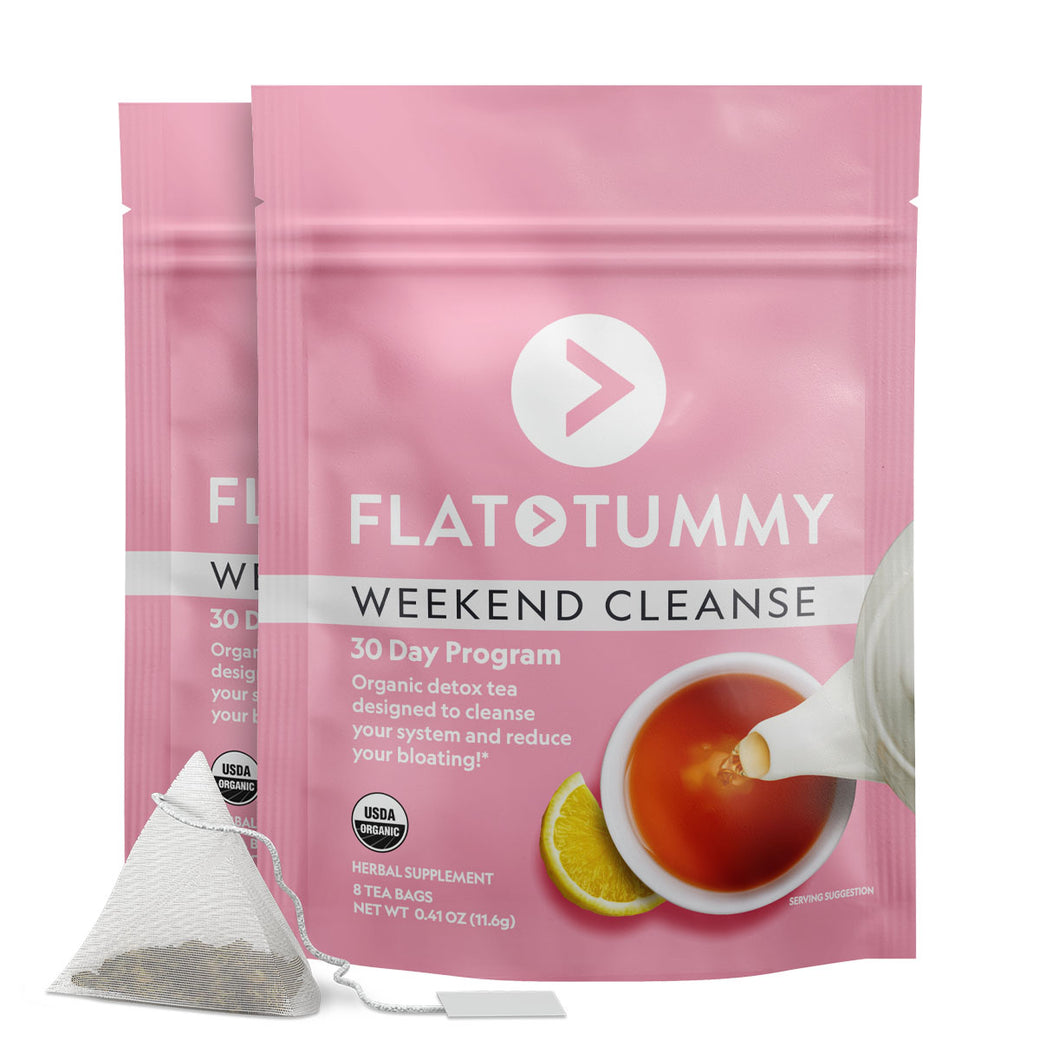 Detox, debloat & deflate your tummy.*
Flat Tummy Cleanse is made up of seven all-natural ingredients that work together to cleanse your colon. The natural cleansing effect is super gentle, and you can adjust the strength of your serving by adjusting the infusion time (shorter infusion time = weaker cleansing effect).*
Wake up feeling light and refreshed, with a flatter-looking tummy.*
Benefits*
Cleanses
colon
Reduces
bloat
Supports
digestion
Deters
gas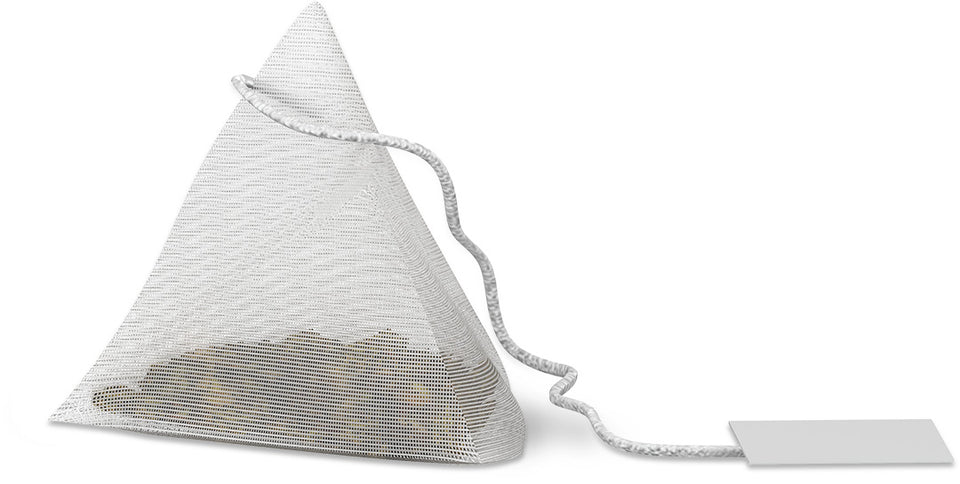 Inside each resealable Flat Tummy Cleanse pouch are 8 pre-portioned tea bags. This is our only tea blend that comes in tea bags for convenience.
Supplement facts

Directions:
On Saturday and Sunday, drink in the evening before bed.

Add 1 Cleanse tea bag to a cup.
Infuse in 1 cup (approx. 8 oz) of hot water for 3-5 minutes.
Remove tea bag and drink!
Repeat next weekend for up to a total of 4 weeks.

Supplement Facts

8 servings per container
Serving Size: 1 tea bag (1.45g) (makes 8 oz)

Amount Per Serving
% Daily Value
Proprietary Cleanse Blend: 1450mg
+

+Daily Value not established
Ingredients
Peppermint (leaf)

Known for its soothing properties, peppermint has a characteristically minty aroma and taste. It comes from a plant cross between spearmint and wild mint.*
Cassia Chamaecrista (pods)

Partridge Pea (scientifically known as Chamaecrista Fasciculata or Cassia Chamaecrista), is native to North America and produces bright yellow wildflowers. Humans typically consume Cassia Chamaecrista for its cleansing properties.*
Liquorice (root)

Imparts a sweet taste and is used traditionally to promote digestion. Liquorice root has a long history of use in many cultures and practices, including Traditional Chinese Medicine.*
Caraway (seed)

Caraway seeds are another seed you can typically find in savory meals. Greenish-brown in color, the taste is similar to cumin.
Senna (leaf)

The Senna family is a vast one, with Senna Alexandrina originating from Egypt, the middle east, and India. Senna alexandrina pods and leaves are commonly used to encourage bowel movements.*
Dandelion (root)

That's right, dandelions are used for more than making wishes! Another botanical that has been used traditionally for centuries, dandelions taste slightly bitter and are traditionally used for their digestive properties.*
Rhubarb (root)

Rhubarb is one of the most ancient herbs in traditional Chinese medicine. It helps to gently stimulate bowel movements, encouraging the bowels to empty.*
Frequently Asked Questions
When do I drink it?

On Saturday and Sunday, drink in the evening before bed. Repeat the following weekend for up to a total of 4 weeks.
What's the difference between this and Flat Tummy Tea?

Over the course of four-weeks, Flat Tummy Tea 2-Step Detox gives your digestive systems an in depth cleanse.* This typically produces better and longer lasting results, than completing just a quick 2-day detox with Flat Tummy Cleanse.

Pro Tip: Flat Tummy Cleanse is a great way to help maintain your results from your Flat Tummy Tea detox.
What kind of results can I expect?

This herbal detox has a gentle cleansing effect, kinda like a digestive reset. It helps to deter gas build up, support your digestion, and helps your body flush toxins from your digestive system that cause bloating.*
Can I still eat normally?

We recommend keeping a fairly healthy diet, and drinking lots of water! Try carrying a water bottle around with you, as you'll be more likely to hit your water goal for the day when it's close by.
Can I use this with blood pressure meds?
What's in Flat Tummy Cleanse?

Trusted for more than 10 years, our Proprietary Cleanse Blend is made up of all natural herbs. Peppermint (leaf), Liquorice (root), Caraway (seed), Senna (leaf), Cassia Chamaecrista (pods), Dandelion (root), Rhubarb (root).
Do I have to workout?
I've been using the Weekend Detox Tea [Flat Tummy Cleanse]. Thanks so much, it's really working. I couldn't believe the results in such quick timing. This stuff really works!
- @ethi___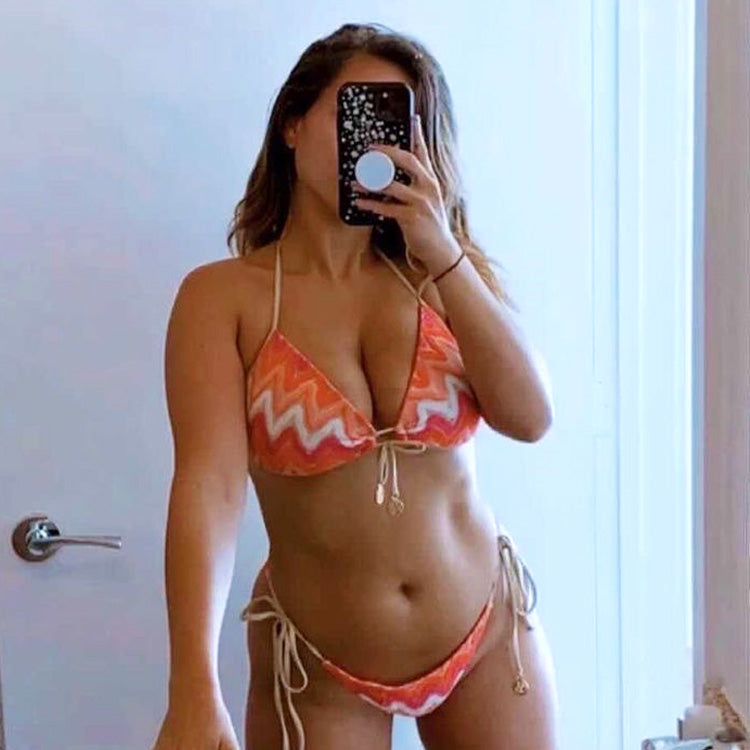 After 2 years of using the weekend tea every weekend! It has helped me get rid of unwanted body weight and keep it off!
- @itspamori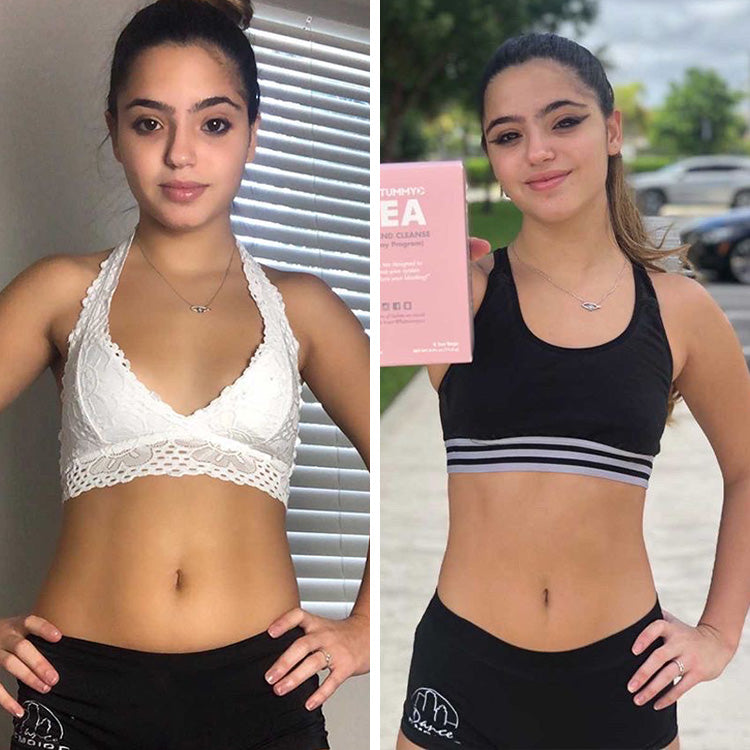 The weekend cleanse was not only one of the best tasting tea I've had, but it got rid of so much of my bloating and unnecessary weight. From 102 lbs to 96 lbs in just one month! The program was so Easy to stick too unlike some of the other diets that leave you craving unhealthy foods you love. With the cleanse it almost feels like you reset your body from all the toxins, and unhealthy foods you ate during the week. you feel so much better. I completed my usual exercise during the week but flat tummy tea just sped up the weight loss process! I absolutely adore this product and will be purchasing some of the others!
- @jaidennhaggiag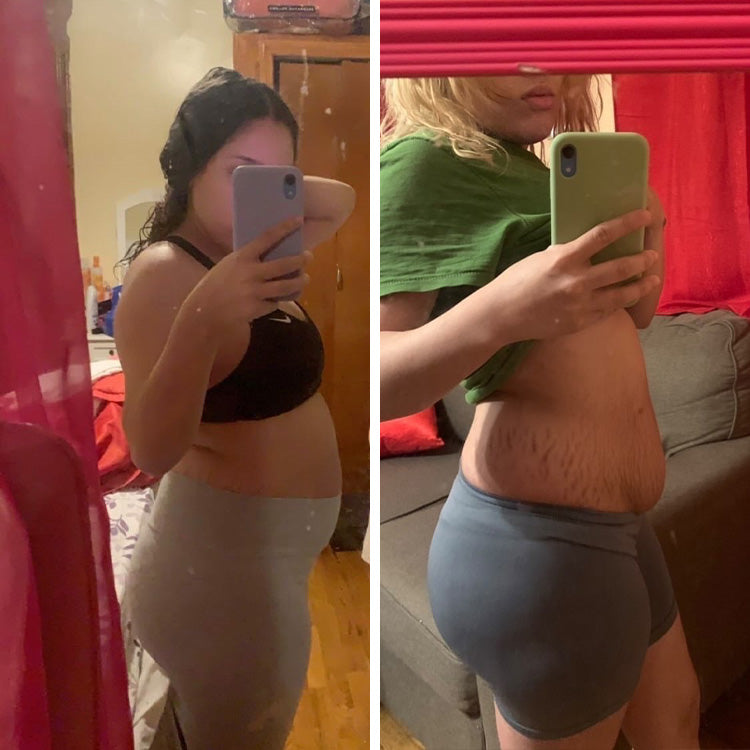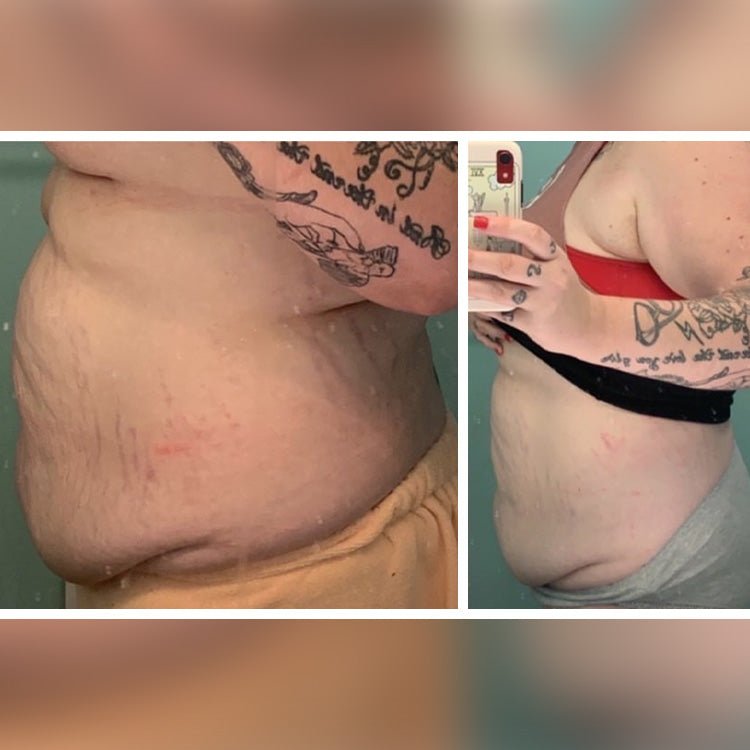 After one weekend cleanse with diet and exercise
- Lorrie L.
Oh Baby! After having a baby in 2020, this was the only thing that made my body feel like mine again! I especially love the menstrual tea and the [Flat Tummy] cleanse….both have been my saving grace! Now I can't live without them!

Jessica

The Tea is AMAZING!!!! I seen results the first 4 weeks. I feel great when I drink it. The cleanse tea is perfect drinking it before bed so when you awake you cleanse your system at the start of the day. I've been drinking flat tummy tea since July 2021 and I'm in love with it!!!!!

Priceless

I have been using the [Flat Tummy] Cleanse for a while now and it has honestly helped me very much with the bloating and the overall appearance of my belly, which is perfect. Since I discovered this game changing product I have made it as part of my weekly beauty ritual. Be ready to say goodbye to that 'blaaahh' feeling and start getting weekend ready!

ItsPamori

I am am absolutely head over heels obsessed with the flattummy tea program! I've been using this product for a little over 2 months religiously and I've lost a total of 28lbs. If you're looking for something to boost your energy, decrease bloating, or just a good cleanse... this is HIGHLY RECOMMENDED! With diet and exercise this gives you that extra push to reach your weight loss goals.

Rochelle P.

This is the best cleanse tea by far! This is the best cleanse tea by far!! 🙌🏽 It doesn't leave you running to the bathroom every 5 mins. It helps SO much with the bloat. && They have tea for any situation. If your cycle is on, when your pregnant..they don't leave anyone out. I LOVE it!! I have been getting all my friends & family to try and they love it as well!!

Shonda H.
I've lost 50ibs in 3 months
You just can't drink the tea and sit on you're ****, the tea help if u work out 30 min a day and also if you drink it before meals and before bed. I've lost 50ibs in 3 months and a lemon to it The tea works great I drink it in the morning and before bed I workout 30 min by walking around and and other exercise that help start the day you just can't drink the tea and sit on you're **** and why eating a double cheeseburger?
Works great ,makes my gut feel at ease
Looking for something else?