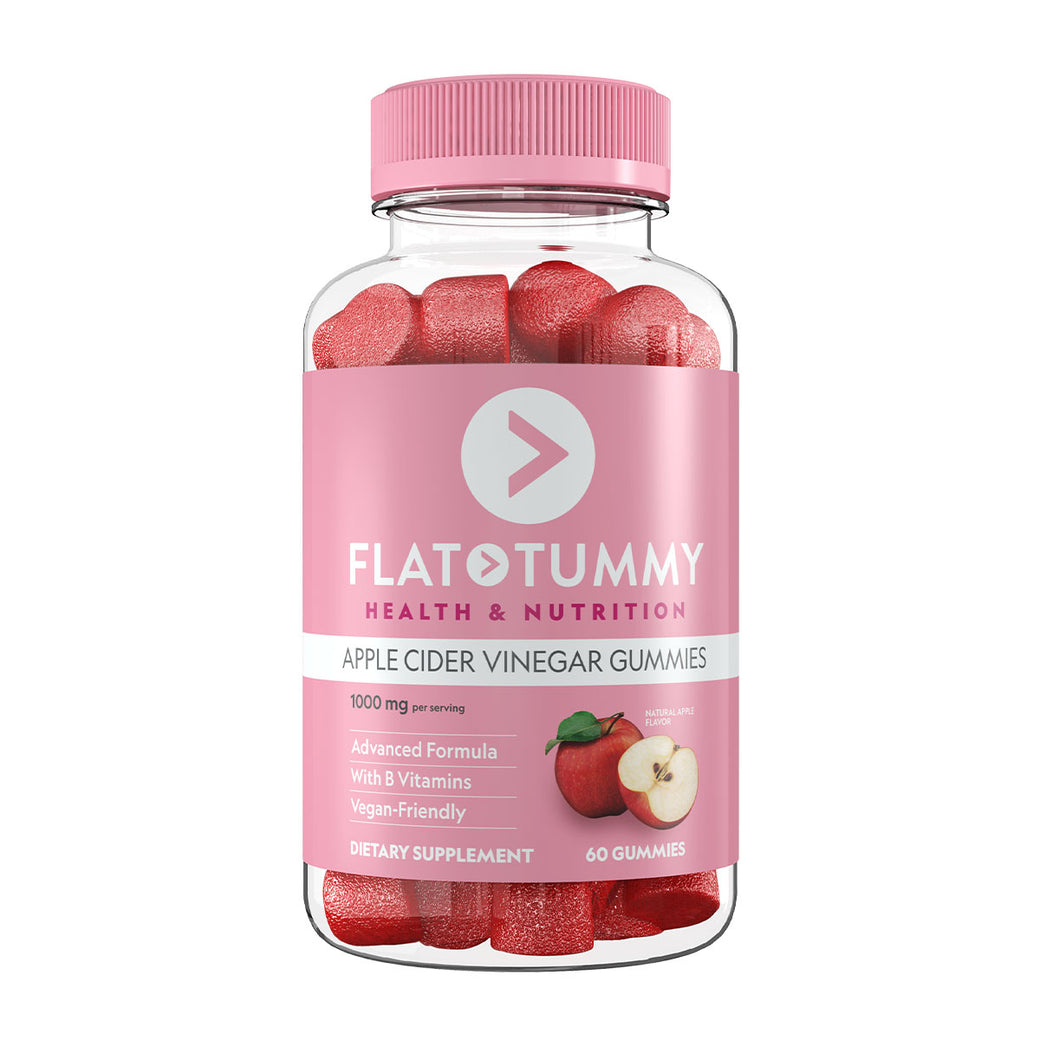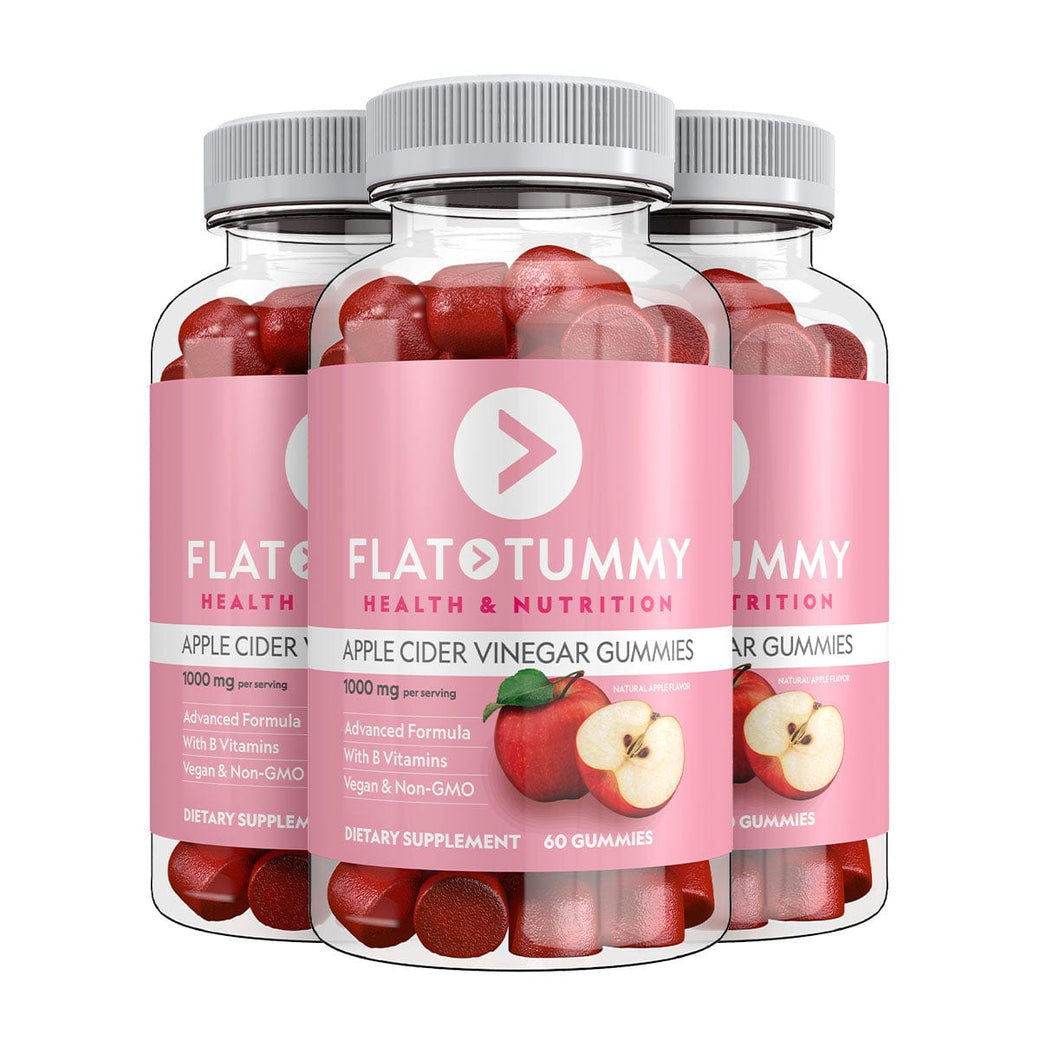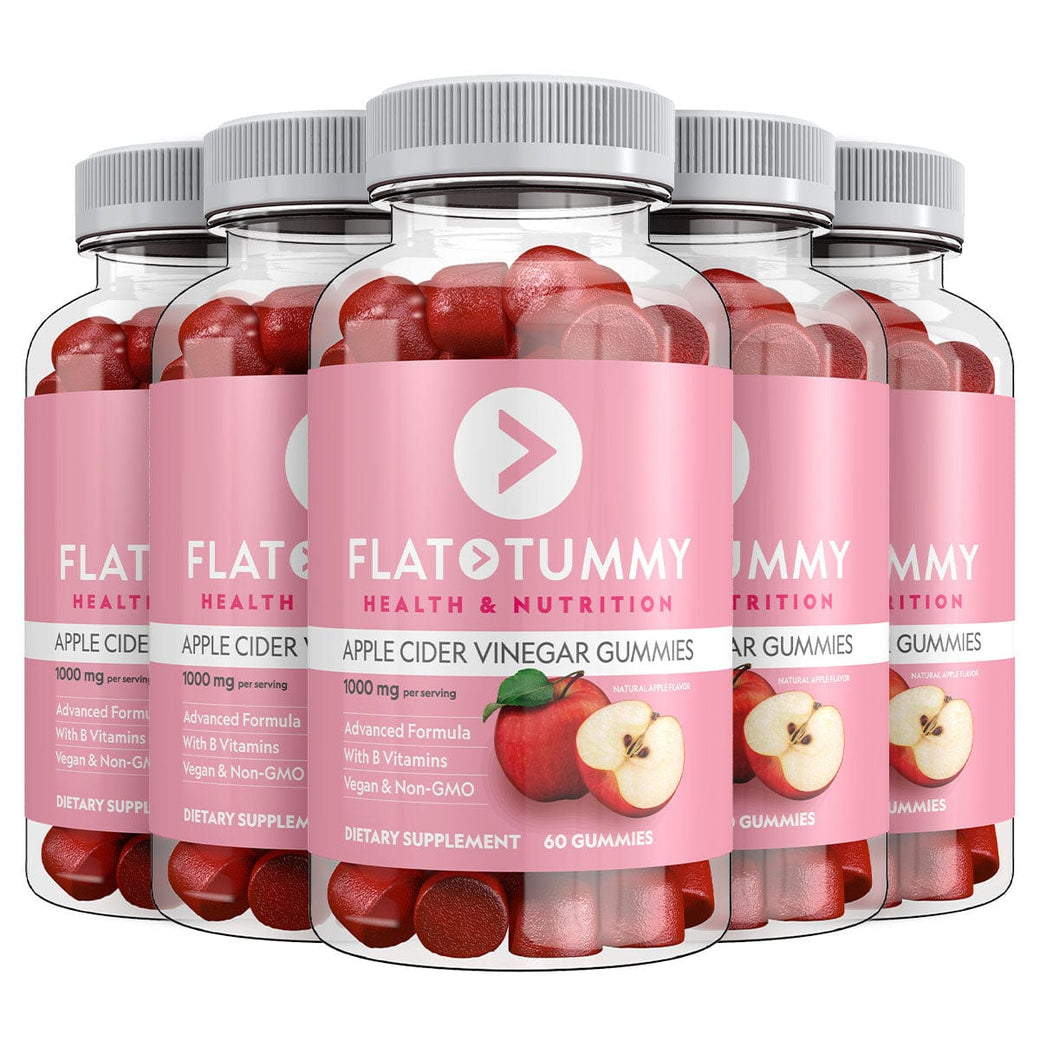 Apple Cider Vinegar Gummies
Every bite of apple cider vinegar gummies are enriched with vitamin B6, vitamin B9 (folate) and vitamin B12. These B-Vitamins are known to help support:
Cellular Energy Production

B-vitamins are used in the body to help break down macronutrients, and then again in the mitochondria of the cells to convert these by-products into usable energy for the cells and body!*
Healthy Immune Function

Vitamin B6 is a factor in the production of certain immune cells, which are essential components of a healthy immune system.*
Heart Health

Folate, also known as Vitamin B9, is a part of homocysteine metabolism in the body. Homocysteine metabolism and healthy homocysteine levels play an important role in heart health.*
Nutrient Metabolism

B-Vitamins are essential for metabolic function in helping the body to break down macronutrients into energy for your cells. B6 helps with amino acid metabolism, as well as breaking down carbohydrates and fats, and B12 helps with fat and protein metabolism.*
Overall Well-Being

B-Vitamins help you "B" at your best! B-Vitamins are essential for hundreds of different metabolic reactions in the body, including the formation of red blood cells by Vitamin B6 and B9, neurotransmitters by B6 and B12, and many more benefits!*
Antioxidant Effects

While B-Vitamins aren't a part of the well-known antioxidant vitamin group (like Vitamins A, C, and E), they've been shown in some studies to possess antioxidant properties.*
Benefits without bitterness.
Adding apple cider vinegar into your day never tasted so good, thanks to Apple Cider Vinegar Gummies for women. Convenient, innovative, and packed with benefits to help your gut be at its best.*
Inside the gummy
Daily value per serving (2 Gummies)
Supplement facts

Suggested Use:
Take 2 gummies per day with food.

Supplement Facts

30 servings per container
Serving Size: 2 Gummies

Amount Per Serving

%DV+

Calories

20

Total Carbohydrate

5g

2%

Total Sugars

2g

**
Includes 2g Added Sugars
5%

Vitamin B6 (as Pyridoxine HCI)

1mg

59%

Folate (240mcg folic acid)

408mcg DFE

102%

Vitamin B12 (as Cyanocobalamin)

2.4mcg

100%

lodine (from Potassium lodide)

100mcg

67%

Sodium

15mg

<1%

Apple Cider Vinegar Powder

1000mg

**

Pomegranate Juice Powder

80mcg

**

Beet Root Juice Powder

80mcg

**

**Daily Value (DV) Not Established.
+Percent Daily Values are based on a 2,000 calorie diet.

Other Ingredients: Glucose Syrup, Sugar, Pectin, Sodium Citrate, Natural Flavor, Citric Acid, Purple Carrot Juice and Turmeric (Color), Annatto Extract (Color).
Ingredients
Apple Cider Vinegar

Apple Cider Vinegar has a long history of traditional use for various health benefits dating back to 400 B.C.E. We've sourced a high-quality apple cider vinegar powder to provide you with a key ingredient in a formula designed to produce great benefits without unpleasant taste!
B-Vitamins

Vitamin B6, B9 (Folate), Vitamin B12 are a group of water-soluble vitamins responsible for several functions and processes in the body. A key role of these powerhouse vitamins is turning the food we consume into usable energy. Vitamin B6 helps with normal functions such as the breakdown of food into glucose for energy. Vitamin B12 is involved in several processes, including DNA synthesis, cellular metabolism and nervous system function.*
Vitamins & Minerals

Iodine is a mineral that serves as an essential nutrient in thyroid function. Thyroid hormones are essential for healthy metabolic activity. Folate is an essential vitamin for healthy cell function.*
---
Super Powders
Pomegranates and beets are considered superfoods (nutritionally dense, containing lots of vitamins, minerals and antioxidants that are good for one's health). Our Advanced Formula is packed with 80mcg of pomegranate juice powder and 80mcg of beet juice powder per serving.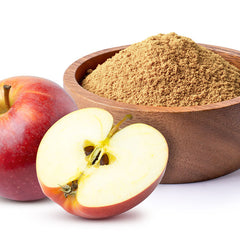 Apple Cider
Vinegar Powder
1000mg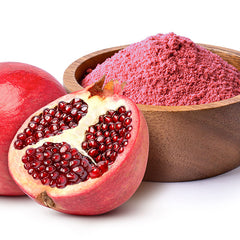 Pomegranate
Juice Powder
80mcg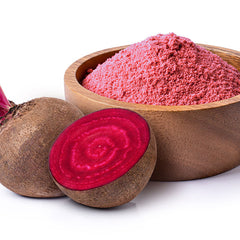 Apple Cider Vinegar
Gummies help to support*
Gut health
Improved digestion
Detoxification
Metabolic energy
Cellular health
A healthy metabolism
Wellness from within
Delighting your tastebuds
Frequently Asked Questions
What kind of results can I expect?

This innovative formula helps your tummy by supporting your digestive system, gut health, metabolic energy levels, metabolism, and natural detoxification.*
How do I take them?

Chew 2 gummies daily, with food.
When do I take them?

You can take them any time of day, just be sure to take your 2 gummies at the same time for best results (chew both in the morning with breakfast, or both in the evening with your dinner). We prefer to take them with breakfast.
Can I use this with blood pressure meds?
What's in Apple Cider Vinegar Gummies?

All our ingredients are vegan-friendly, gluten-free, gelatin-free and non-GMO. We use a combination of things like apple cider vinegar powder, B-vitamins, beet juice powder, pomegranate juice powder to provide you with a delicious (but effective) formula.
Do I have to workout?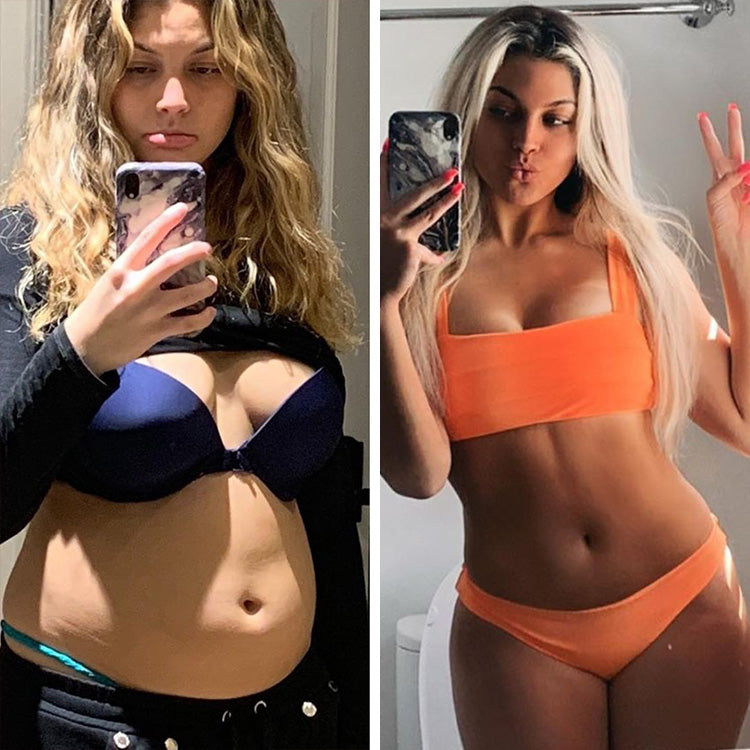 You can't fake this - I basically have a 2-pack now…. The Flat Tummy Apple Cider Vinegar Gummies are so good. ACV is proven to boost your metabolism, decrease your appetite, and help you lose weight. It also has B12 in it, which helps boost your energy levels throughout the day…. They taste amazing, they taste like candy!
- Amie B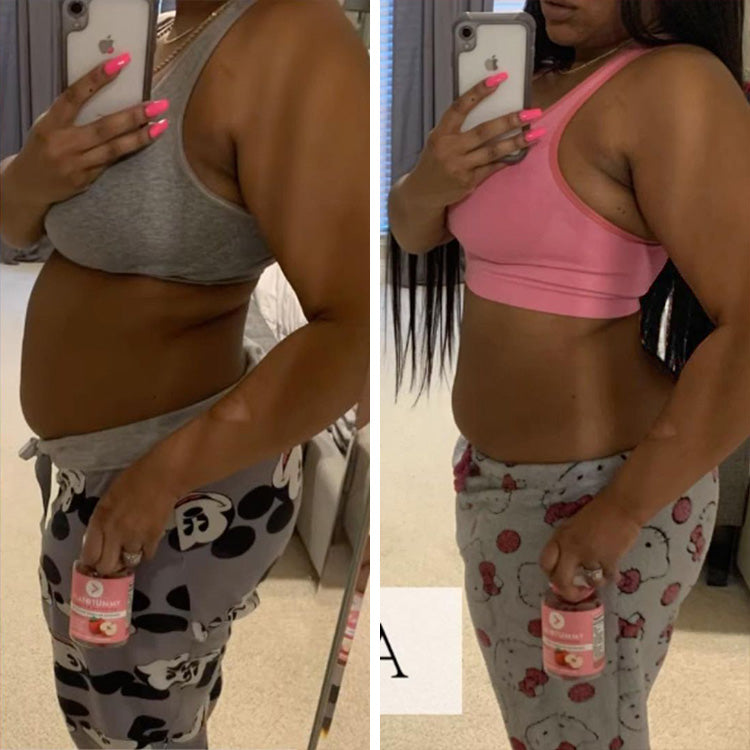 In case somebody wonders if @flattummyco ACV gummies work, just look at my tummy progress! 3 weeks in, and my bloat is completely gone 😜 I personally call it winter time fine 😇🥳
- Sewinqueens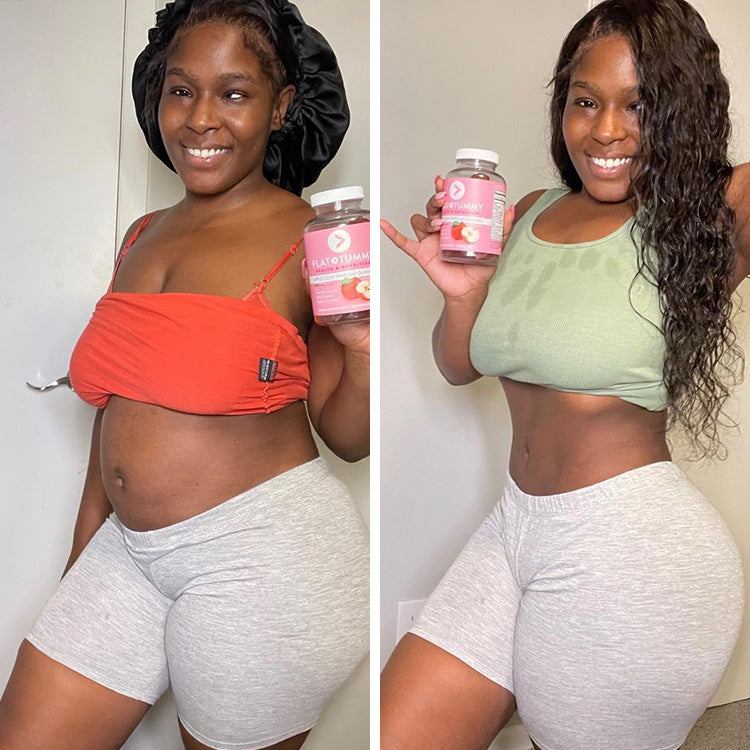 Just 2 little gummies give me all the same benefits as a nasty shot of ACV, but they're actually sooo delish 🤤
- pinkbarbie_x3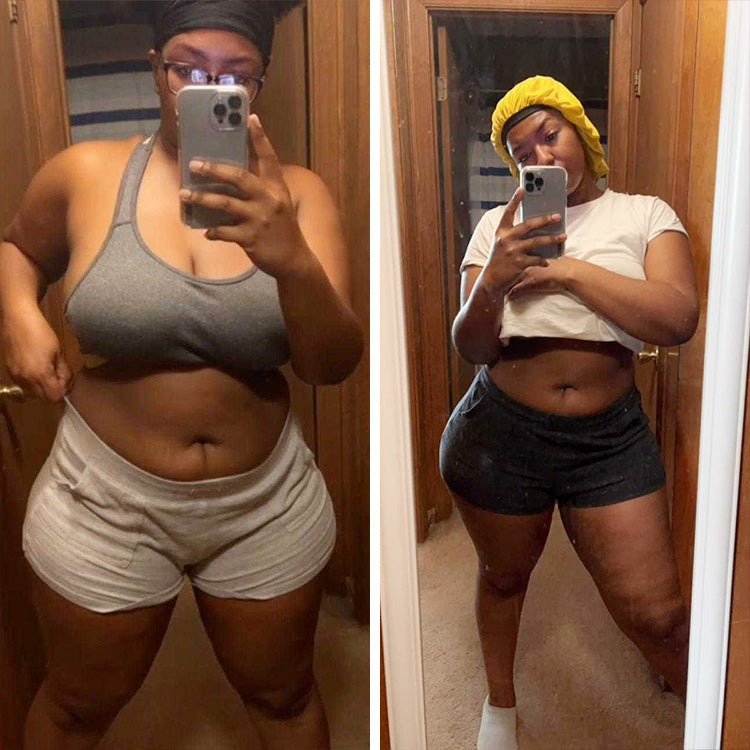 I love (Gummies) this is my second batch and my results are amazing.
- @tres_.belle_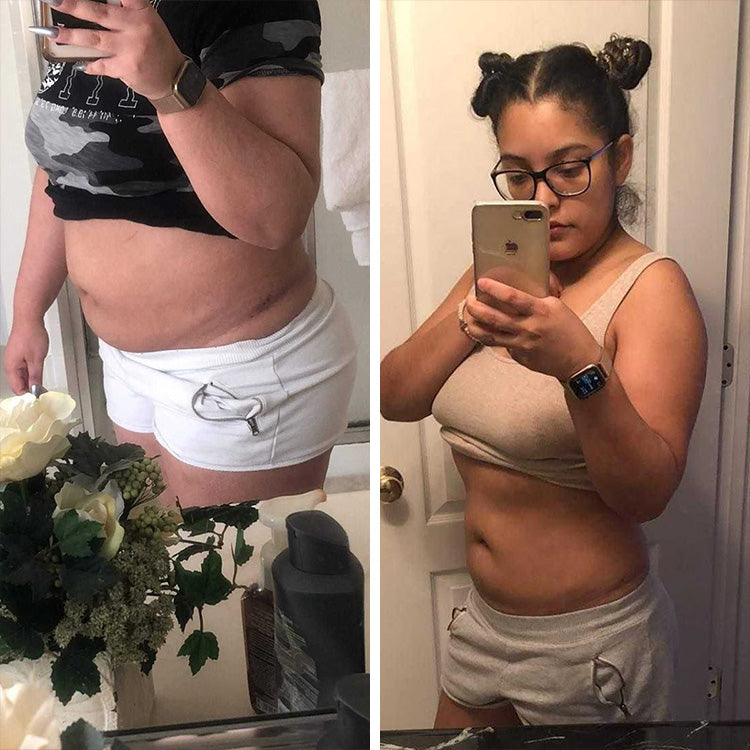 I had so many questions about this… I finally decided to try out the gummies while working out 2 hours a day and also changed my diet to more healthier options and the before and after pictures are MIND BLOWING! I'm so excited to continue the flattumm teajourney 💪🏽
- Melanie
So good! These are the first apple cider vinegar gummy that I have come across that actually taste good and do what they claim! I eat 2 every morning and feel great all day!

Katie

The Best 😍😍😍😍😍😍😍 I Love my flat tummy gummies they have helped loose water weight. i also do not eat as much when i take them. They give my energy which is amazing... lets not forget the taste its really good I Love it ..... Flat tummy Tea is simply the best . I have recommended this product to my friends and family 💓💖💖😍💓💖😌😜💖 cant wait to buy other products.😍💓💖❤️💖💓💖❤️😜

Angelo

I just recently started the gummies. I'm on my 2nd week and I have so much energy and it definitely detox's you. I can't wait to try more things! I love the app and all the works it provides to you for FREE! I have tried a lot of things and none of the other have worked after a couple days I have stuck with this and glad I have. I've also have been telling everyone about it!!! ♥️

Brooke

I didn't expect it to taste so good. Ever since I been taking the gummies every morning I feel so energized and amazing. I don't crave sugar like I used to. My husband started to noticed a difference in my tummy size and it gave me so much confidence. Thank you flattummytea for giving me that self love.

Salnez

I love flat tummy it's the best this is… It's the only product I love using and I know it won't disappoint me I love their apple cider gummies they taste delicious gives me lots of energy perfect for bloatedness ❤️❤️❤️❤️ I give this product a 100% of 100 it's the best

Monica

I love the ACV gummies! They make me feel less bloated and taste like candy. I have them after dinner every night and I'm obsessed with them!

KayTrued
IT WORKS!
I can't believe it! My entire life I have always felt and looked like I was 6 months pregnant, everyday at bedtime. I always just wrote it off as having a thin build that was just full from the day's food. Then I ran across these gummies and thought I had nothing to lose…EXCEPT FOR MY BELLY! After only two days I was no longer feeling or looking bloated! I wish I had known about these earlier!
An helpful tool in a small package.
Last year I was able to lose some weight for the summer. And it's because of the Apple Cider gummies.
They really do work, I promise they do!!!!
Very delicious has a wonderful taste
Very delicious has a wonderful taste
Looking for something else?