10 Snacks That Don't Need a Cooler
Posted by Nicole from Flat Tummy Co on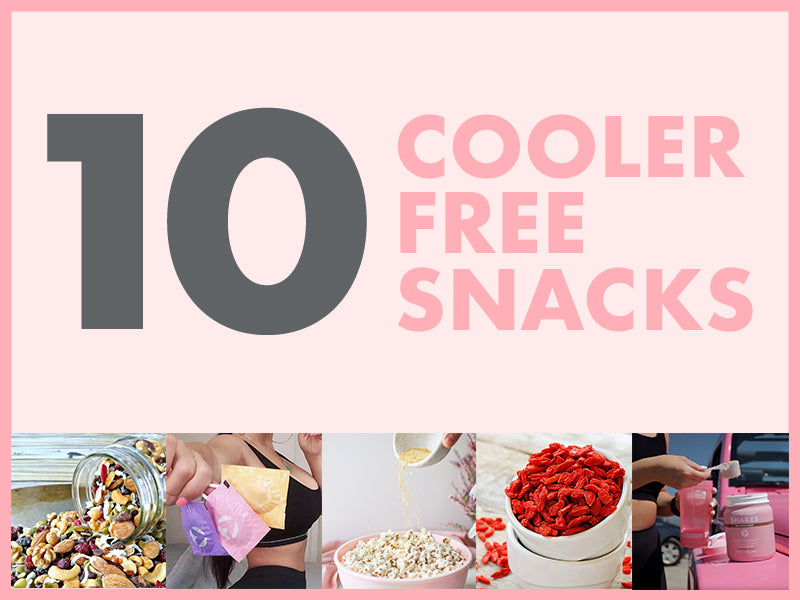 Our girls at HQ know staying on track isn't always easy in the summer. It feels like all the best summer snacks rely on having a cooler on hand. We put together the top 10 go-to snacks that we always make sure to pack!

CHECK THEM OUT BELOW!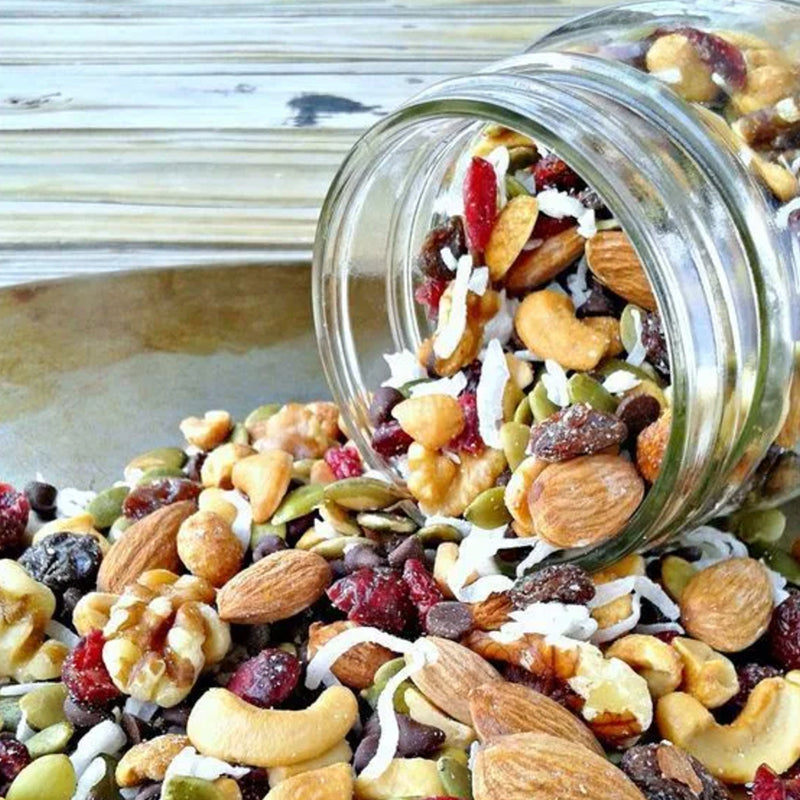 For when Nicole needs something to snack on while camping:
Raw Energy Trail mix
Servings: 6

Ingredients
1 cup Walnuts
⅓ cup Pumpkin seeds
⅓ cup Sunflower seeds
½ cup Dried apricots
½ cup Dried cranberries
1 tsp Ground cinnamon
½ tsp Nutmeg
¼ tsp Sea salt
Directions: Combine all the ingredients in a bowl and store in an airtight container.
Notes: We've given estimates of the amount we would use of each ingredient for our fav combo. Mix and match the ratio to make your fav stand out!
For when Krista is craving something crunchy at the beach:
Tex Mex Roasted Chickpeas
Servings: 6

Ingredients
2 cans Chickpeas (garbanzo beans)
2 tbsp Olive Oil
½ tsp Chili powder
½ tsp Garlic powder
½ tsp Cumin
¼ tsp Black pepper
¼ tsp Sea Salt
Oven Temperature: 375°F

Cooking time: 45-60 minutes
Directions:
Preheat the oven to 375°F
Drain and rinse the beans and let them dry on a towel. Line a baking sheet with parchment paper and spread the beans on a single layer on the sheet. Roast the chickpeas for 45-60 minutes or until they're crunchy throughout. While the beans are cooking, premix your seasonings in a small bowl.
In a large bowl, while they are still hot, toss the beans in olive oil and seasoning. Store in an airtight container for up to 4 days.
https://modernparentsmessykids.com/healthy-snack-roasted-chickpeas/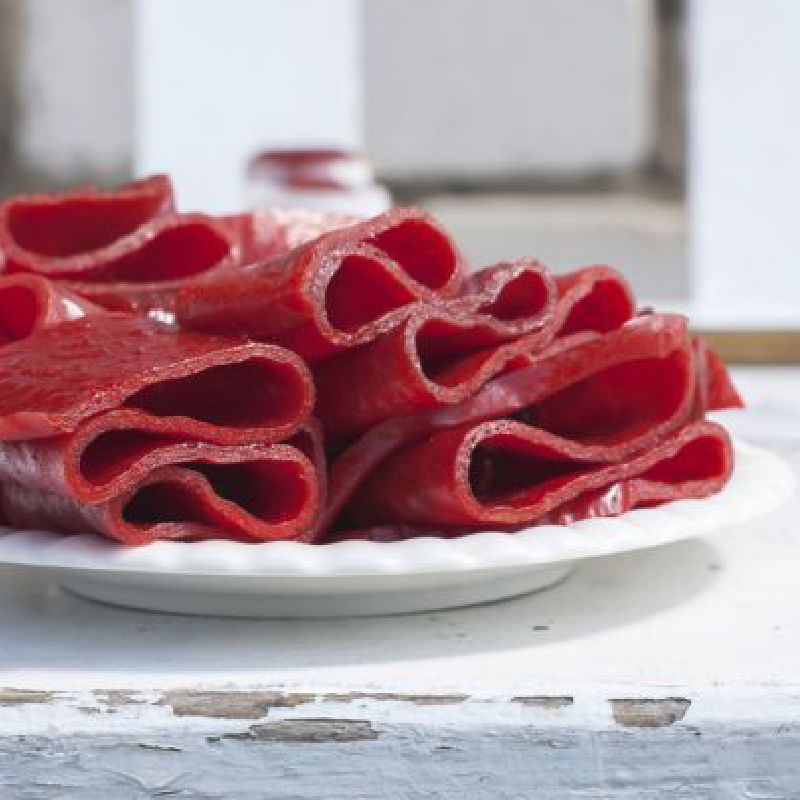 For when Amber gets a sugar craving at work:
Homemade strawberry fruit leather
Servings: 10

Ingredients
3-4 cups Fresh strawberries (stems removed)
1 tbsp Agave or honey

Oven Temperature: The lowest temperature your oven will go

Cooking time: 6-8 hours
Directions:

Preheat the oven to the lowest temperature it will go. Line a baking sheet with parchment paper so it hangs over the side a little bit.

Puree your ingredients in a food processor or blender. Spread an even layer on to the parchment paper.

Bake for 6-8 hours or until it is no longer sticky. Slice and roll to create roll ups!
 Notes: Tie the rolls with string to keep them from unrolling in your lunch!
https://onesweetappetite.com/strawberry-fruit-roll-recipe/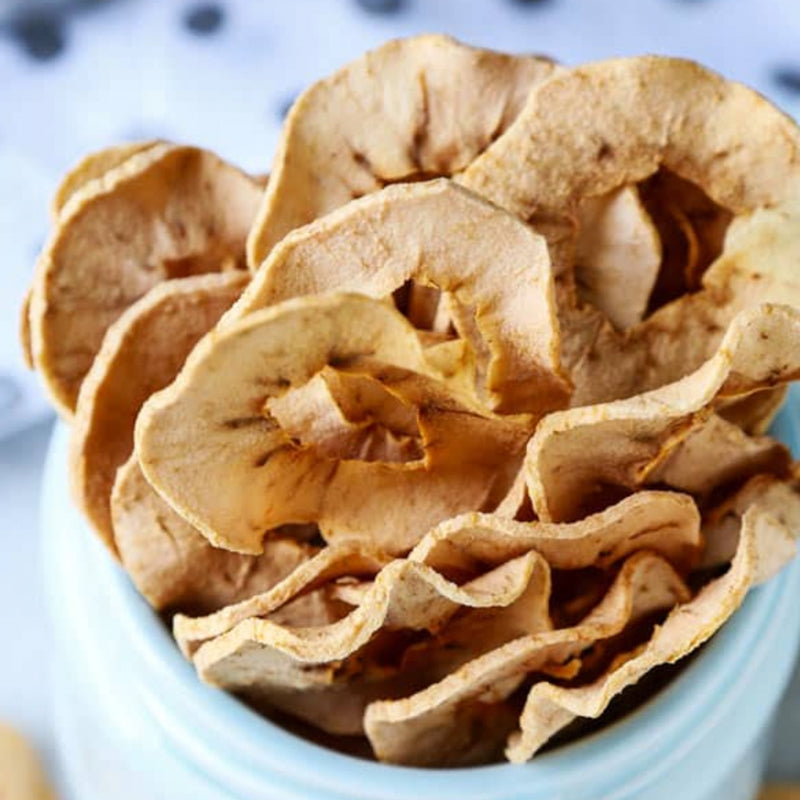 For when Isabella is craving chips at a game:
Baked Apple Chips
Servings: 4 per apple
Ingredients
1 apple per baking sheet (add 30-45 minutes if adding an extra sheet to the oven)
Oven Temperature: 200°F
Cooking time: 2 hours
Directions: 
Preheat the oven to 200°F. Line a baking sheet with parchment paper.

Core the apple and slice it very thin using a mandoline. Line the baking sheet in a single layer without overlap.

Bake for 1 hour then flip. Bake for another hour. Remove from oven and allow to cool and crisp. Store in an airtight container.
Notes: Looking to spice it up? Toss your slices in ½ tsp cinnamon before baking for Apple Cinnamon chips!
https://thevietvegan.com/baked-apple-chips/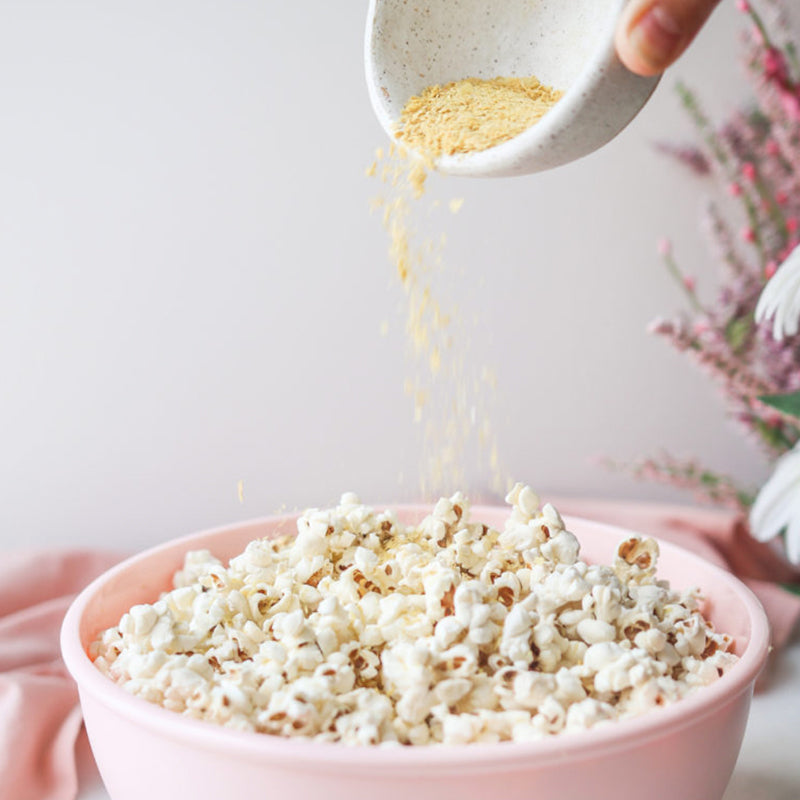 For when Emma needs to bring something to girls night:
Air popped popcorn with nutritional yeast
Servings: 4 servings
Ingredients
½ cup Popcorn kernels
1 tsp Extra Virgin Olive Oil
2 tbsp Nutritional yeast
Cooking time: approx 5 minutes
Directions: 
Preheat a large non-stick pot with a lid over medium-high heat. Once the pot is hot enough, reduce heat to low-medium heat. Add kernels and immediately place lid over top.

Gently shake the pot every 5 seconds. The kernels will start to pop after about 1-2 minutes. Continue to shake the pot until roughly 3 seconds elapses between the kernel pops.

Immediately remove the post from the heat and season with nutritional yeast.
Notes: Nutritional yeast is low in sodium and calories, fat-free, sugar-free, gluten-free and vegan. It's a great low-cal way to get a cheesy, nutty flavor!
https://amyshealthybaking.com/blog/2018/03/18/stovetop-air-popped-popcorn/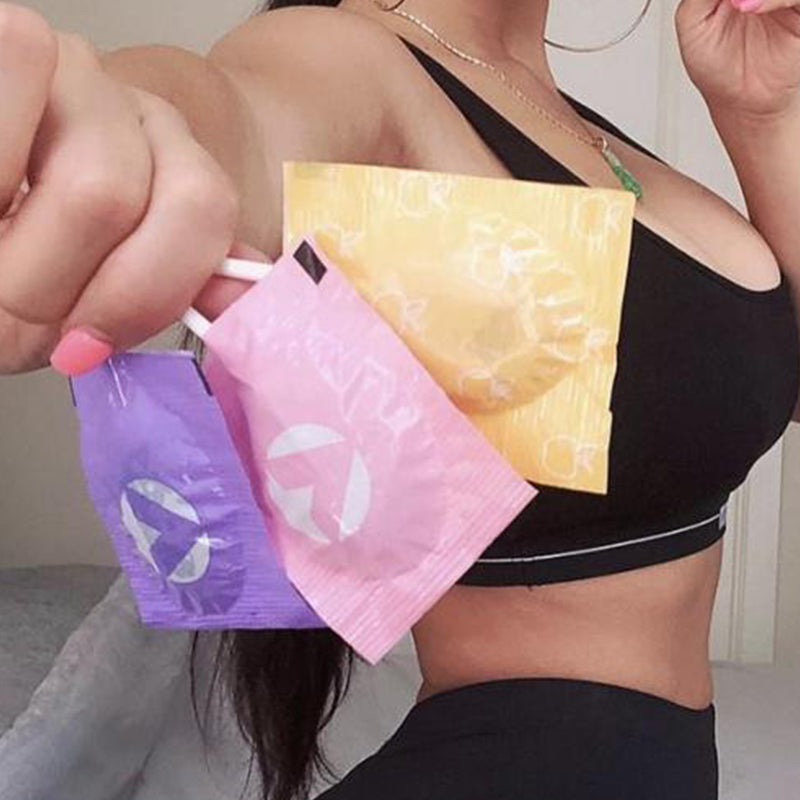 For wherever Shelby's cravings hit:
Flat Tummy Pops
No instructions needed. Stash one in every purse, at your desk, wherever! Our pops are perfect for satisfying your cravings on-the-go and the best part, they're only 35 cals! 20% OFF right now!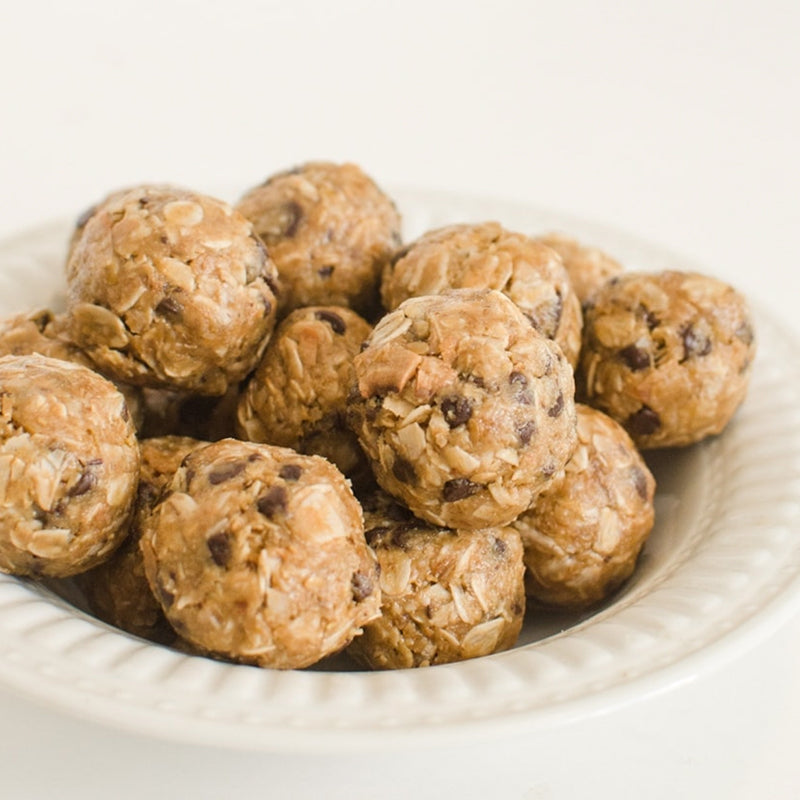 For when Katie is looking for a little post-workout boost:
Protein peanut butter energy bites
Servings: 12
Ingredients:
½ cup your preferred Nut butter
¼ cup Honey or agave
1 tsp Vanilla extract
⅓ cup Shake it Baby protein powder (vanilla or chocolate)
⅓ cup Flaxseed meal
⅓ cup Unsweetened shredded coconut
½ cup Rolled oats
1 tbsp Mini chocolate chips
1 tbsp Chia seeds
Directions:
Combine peanut butter, honey, and vanilla extract in a large bowl until well combined.

Add in Shake it Baby, coconut, flaxseed meal, oats, chocolate chips and chia seeds. Mix well.

Combine until you're able to form the mix into balls. Form into 12 balls and store in an airtight container. Store in the fridge for up to 1 week.
Notes: It may be easiest to use your hands to mix the dough once all the dry ingredients are added.
https://www.ambitiouskitchen.com/protein-peanut-butter-energy-bites/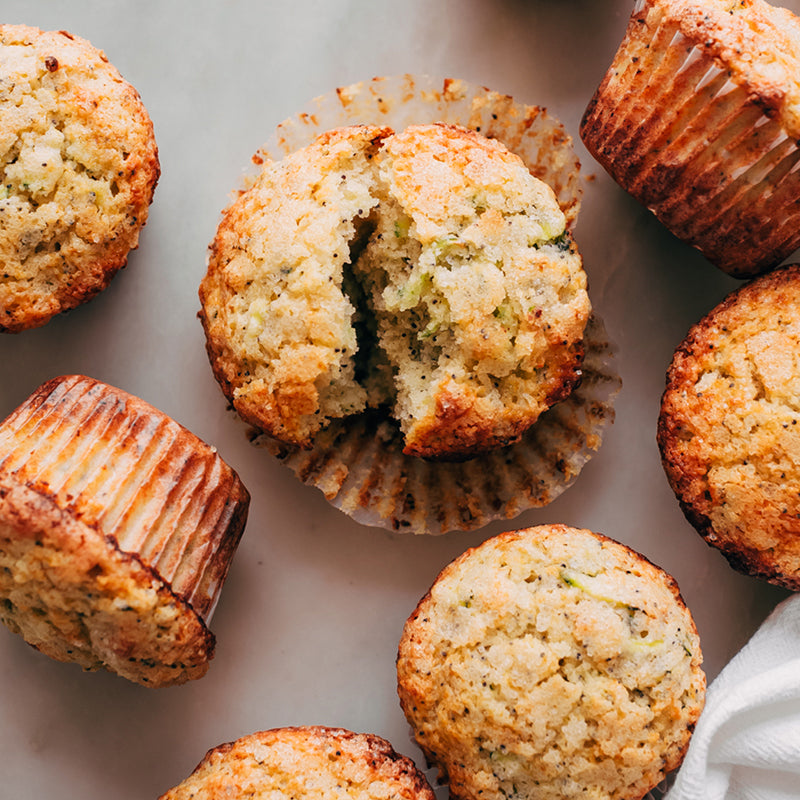 For when Jacqui needs a quick breakfast to grab on her way out the door:
Whole wheat zucchini muffins
Servings: 12
Ingredients:
2 cups Whole-wheat flour
2 tsp Baking powder
1 tsp Baking soda
1 tsp Cinnamon
¼ tsp Salt
½ cup Applesauce
¼ cup Olive oil
¼ cup Milk (nut or soy milk will work as well)
1 Banana (mashed)
¼ cup Honey
1 cup grated Zucchini (about 1 large zucchini)
Over temperature: 350°F
Cooking time: 15-20 minutes
Directions:
Preheat your oven to 350°F.

Combine all the dry ingredients in a large bowl.

In a separate bowl, whisk together the wet ingredients (excluding the zucchini). Combine the wet and dry ingredients and stir. Fold in the zucchini.

Pour into a lightly greased muffin tin. Fill the cups half way. Bake for 15 to 20 minutes or until browned.
https://greatist.com/eat/recipes/whole-wheat-zucchini-muffins#1
For when Kayla needs an energy boosting while hiking:
Dried Goji berries
This antioxidant rich berry is a superfood snack! They're low cal and fat free, and also packed with fibre, protein, vitamin C, beta-carotene, iron, vitamin A, and zinc. There's a ton packed into this little berry, which is why they are the perfect snack to have on hand wherever you may need! Bring ⅓ cup of goji berries in a container to satisfy your cravings and give you the energy to keep hiking!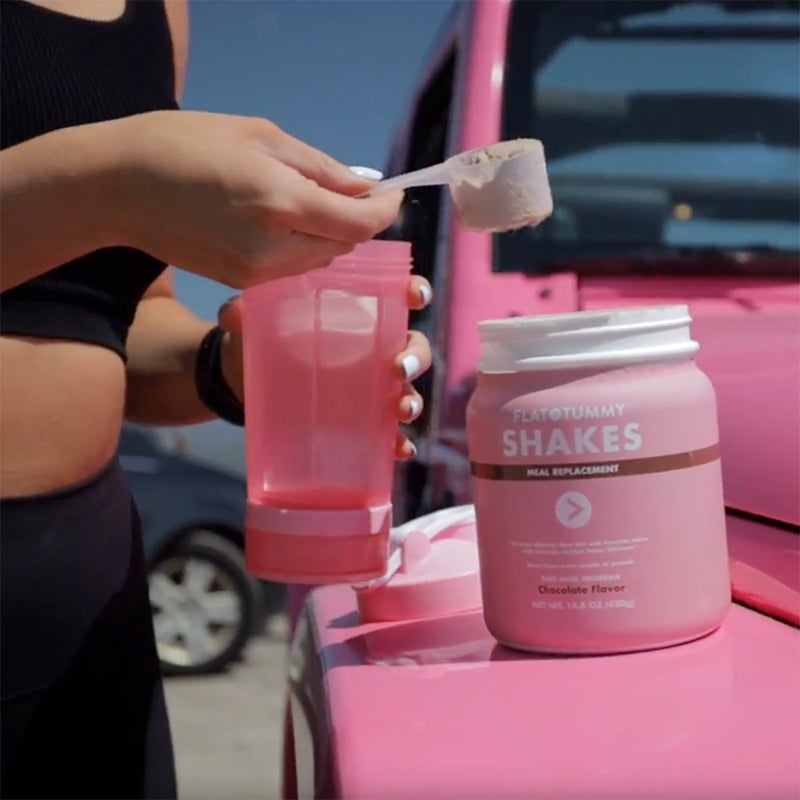 For when Valentina needs a little more than a snack:
Flat Tummy Shakes
Need a little more than a snack? Pre-pack a Flat Tummy Shake! The detachable bottom of our Shaker bottle allows you to pre scoop your shake so its all ready when you need it on the go. The best part? They're 20% OFF all summer long!
Say goodbye to naughty cravings and temptations! We've got your summer snack line up ready. We don't expect you to never cave, but keep these snacks on hand and you'll be summertime fiiiine all summer long!