8 NEW CHOCOLATE / STRAWBERRY SHAKE RECIPES FROM HQ
Posted by Nicole from Flat Tummy Co on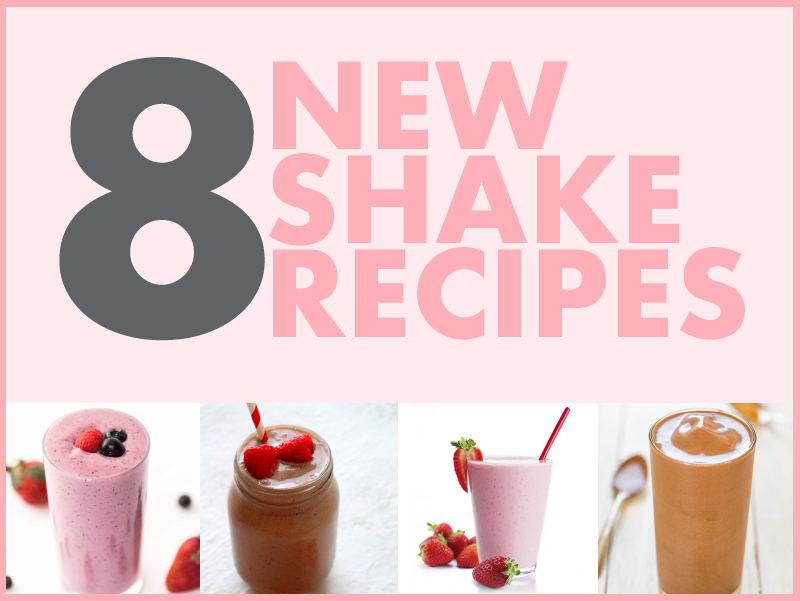 You asked, we answered! We got creative and whipped up some new recipes for our Chocolate and Strawberry Shakes! These recipes are a super easy way to get going with your Shake program and move those stubborn LBS - so now you can mix things up and have no excuses for falling off track! And don't worry, babe. You can swap out any of these recipes to use with Vanilla Shakes too!
Got a few amazing Flat Tummy Shake recipes of your own? Fire them our way!
Strawberry Sensation Shake


2 scoops of Strawberry Shake
10 oz. of coconut milk
1 Handful of frozen strawberries
½ a Banana

Strawberry Shortcake Shake

2 scoops of Strawberry Shakes
¾ cup milk (I used 2%)
½ cup Greek yogurt.
6 vanilla wafers (depending on mood)
1 tablespoon vanilla extract
1 cup ice

Fruity Strawberry Shake


2 scoops of Strawberry Shake
½ cup mixed frozen fruit
½ a Banana
¾ cup Orange Juice
3 tbsp low-fat vanilla yogurt
Honey

Sour Strawberry Shake


125 ml water
2 Scoops of Strawberry Shakes
½ cup frozen blueberries
½ cup (8-10 cherries) frozen black cherries
2-4 tbsp greek yogurt (to taste)

Chocolate Peanut Butter Shake


2 tbsp of plain yogurt
2 Scoops of Chocolate Shakes
8 oz of water
½ a Banana
1 tbsp powdered peanut butter

Chocolate Peanut Berry Shake


1 cup frozen berries
2 Scoops of Chocolate Shakes
12 oz almond/coconut milk
1-2 tbsp peanut butter
2 tsp chia seeds
(alternative: add 1 banana)

Sweet Chocolate Shake


2 scoops Chocolate Shake
1 Banana
8 oz water
Handful of raspberries
4 ice cubes

Chocolate Banana Protein Pancakes
Make 2-4 depending on size


½ cup of Chocolate Shake
2 mashed bananas
2 eggs
Handful of chocolate chips to top
Spread PB on them instead of using syrup
Wanna keep it simple? Grab your Flat Tummy Shaker Bottle to shake things up in freakin style. All you need is 10 ounces of cold water, 2 scoops of shakes and that's it!