HOW DO YOU LIKE TO SHAKE IT, BABY?
Posted by Valentina from Flat Tummy Co on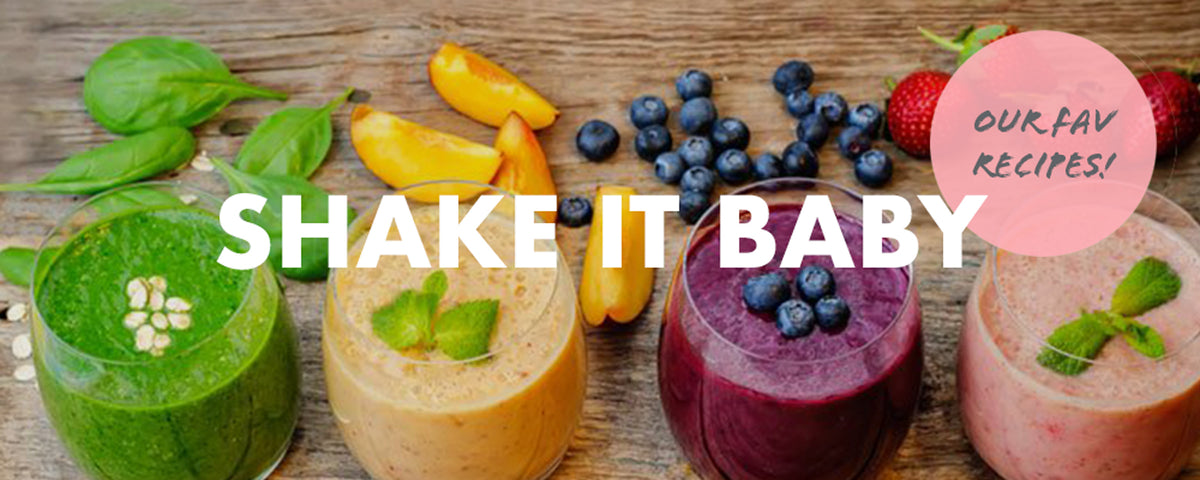 6 of our fav Shake It Baby recipes straight from Flat Tummy HQ.
So unless you've been living under a rock… you've probably heard that we just dropped our Shake It Baby meal replacement program. And for real… they're freaking GOING OFF! We've got thousands of babes all around the world who are already shaking it, showing off those flat tummies, and totally kicking ass! And because we know you babes are always looking to shake things up and try something different, we got some of our Flat Tummy HQ girls to share their fave Shake It Baby recipes. So whether you're a Matcha Babe or a Vanilla Baby, we've got the perfect shake for you.
Mango Magic

1 cup of frozen mango
⅓ cup of vanilla yogurt
1 ½ tablespoons of crunchy natural peanut butter
1 Vanilla Shake It Baby Packet

Fill with water and blend

You Me Matcha

½ cup of natural greek yogurt
2 tablespoons of honey
½ cup of ice cubes
1 Matcha Shake It Baby Packet

Fill with water and blend

Fall Fever

10oz. of coconut milk
1 cup of pumpkin pie mix (pre-mixed)
1 Vanilla Shake It Baby Packet

Blend until smooth

Green with Envy

1 cup of spinach
1 ripe banana
1 tablespoon of honey
1 Matcha Shake It Baby Packet

Fill with water and blend

All Berry Bang

½ cup of strawberries
½ cup of blueberries
½ cup of natural greek yoghurt
1 Vanilla Shake It Baby Packet

Add vanilla almond milk and blend

Tropical Twist

½ cup of mango
½ cup of pineapple
⅓ cup of greek yogurt
1 Matcha Shake It Baby Packet

Fill with water and blend