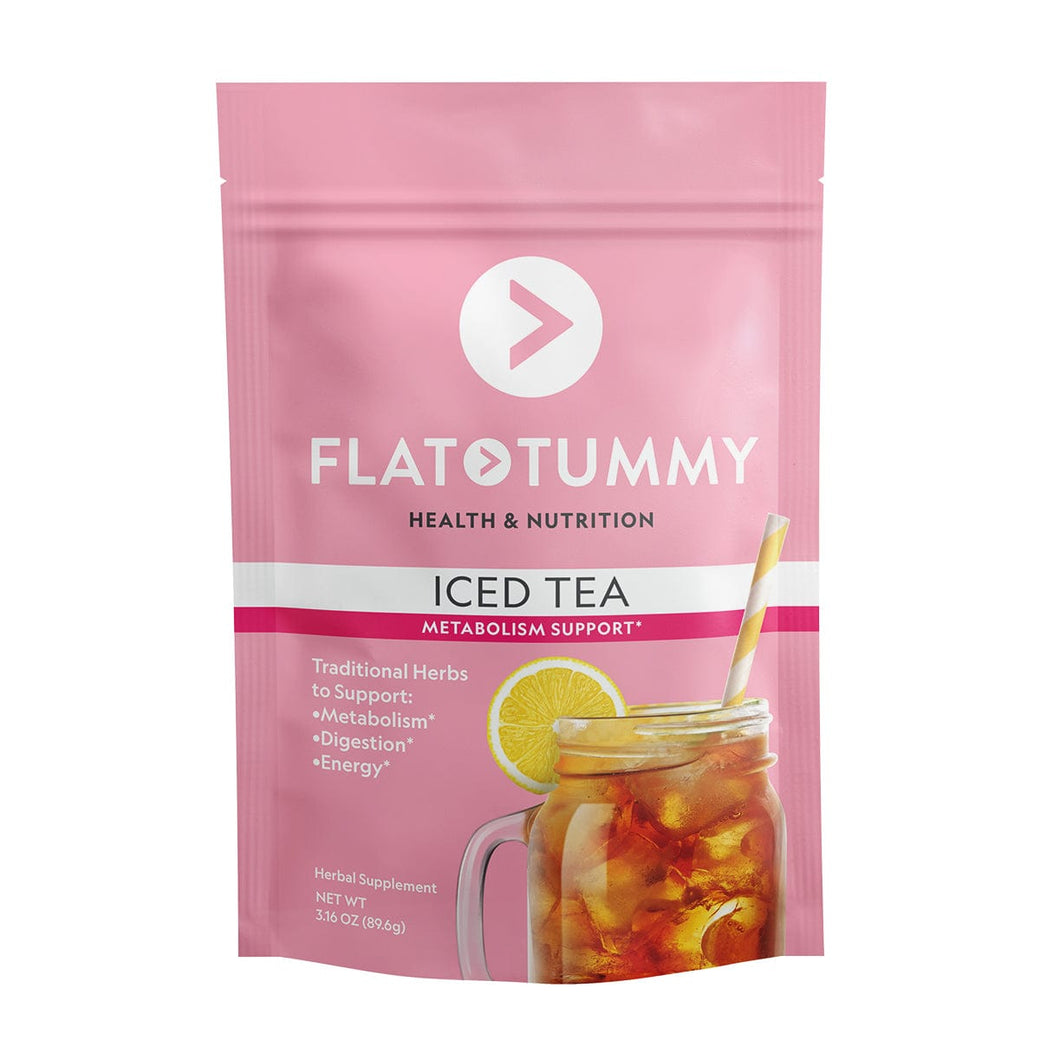 Benefits
When paired with exercise, Flat Tummy Iced Tea helps support:*
Metabolism
Digestion
Feeling Energized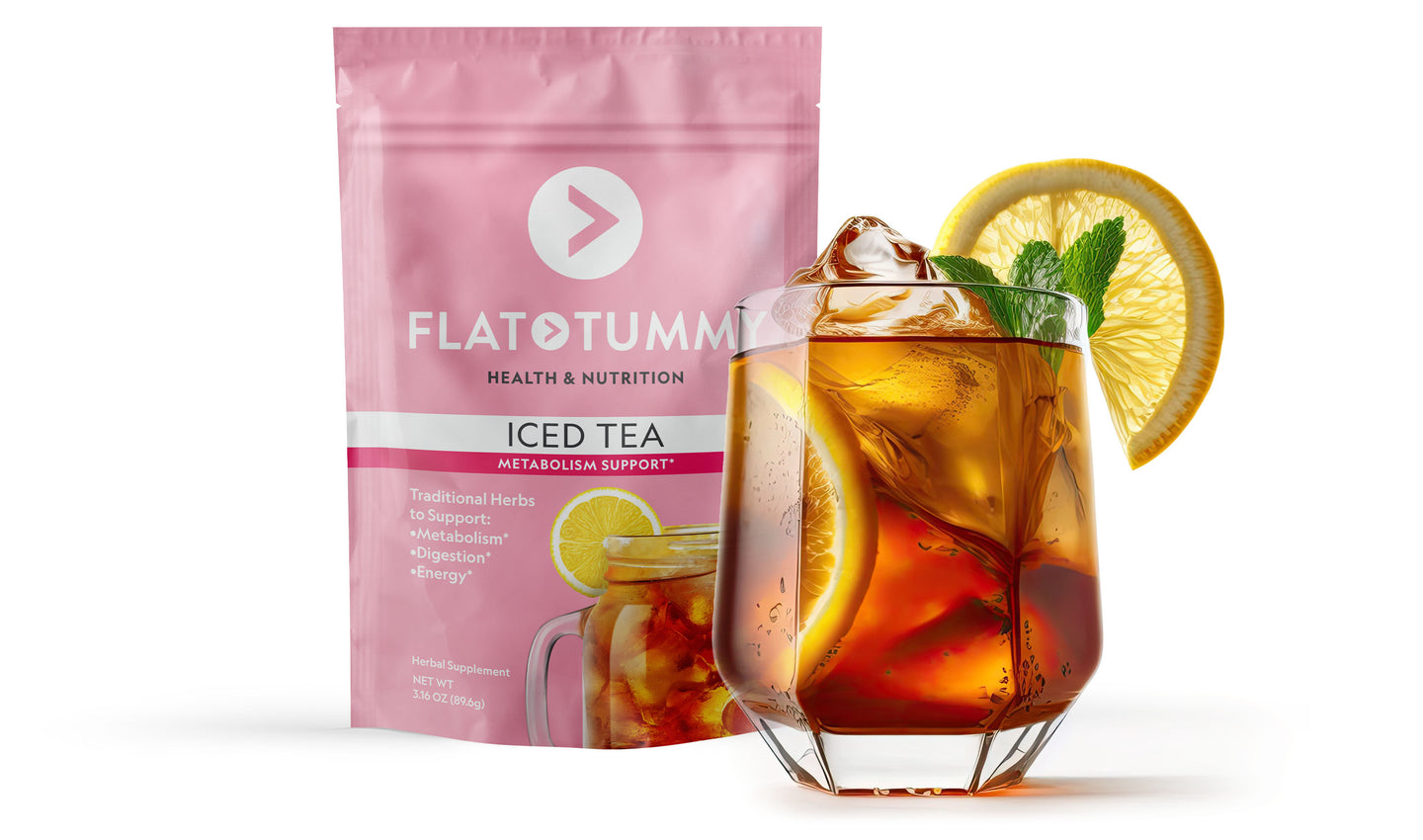 Supplement facts

Directions:

Put 1 tsp of Flat Tummy Iced Tea into a tea strainer.
Infuse in 1 cup (approx. 8 oz) of hot water for 5-7 minutes.
Remove tea strainer. Cool in fridge for 1 hour
Serve over ice and drink.

Supplement Facts

28 servings per container
Serving Size: 1 tsp (3.2g) (makes 8 oz)

Amount Per Serving
% Daily Value
Proprietary Metabolism Support Blend: 2976mg
+
Green Tea (leaf), Ginger (root), Green Rooibos (leaf), Peppermint (leaf)

+Daily Value not established

Other Ingredients: Natural Lemon Flavor, Org. Stevia (leaf)
Kickstart your tummy
Supporting your body's natural metabolism is an important part of an overall weight management strategy that includes healthy eating and active living! On top of that, our Iced Tea blend is packed with traditional herbs that aid your digestion and help you feel energized.*
A refreshing way to get back on track.*
Ingredients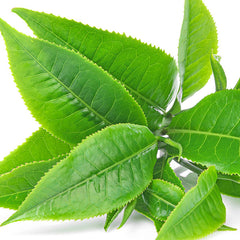 Green Tea (leaf)
Traditionally used for centuries and consists of many different components, including polyphenols which support digestion.*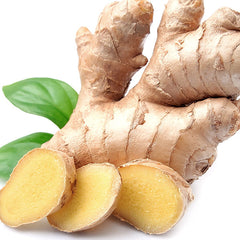 Ginger (root)
Amongst some of the tastiest and flavorful spices, ginger helps support the digestive system and is typically used to calm the tummy.*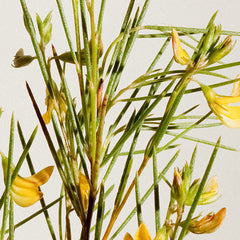 Green Rooibos (leaf)
Packed with flavonoids, green rooibos is typically found in red bush tea.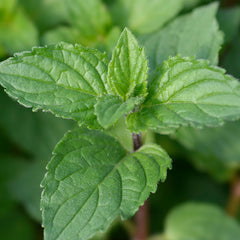 Peppermint (leaf)
Naturally sweet, peppermint leaf helps support the digestive system, energy levels, and ease occasional digestive discomfort. As an added bonus it may even freshen your breath.*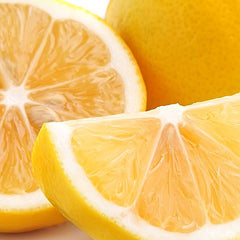 Natural Lemon Flavor
A refreshing zing to compliment the peppermint and green tea.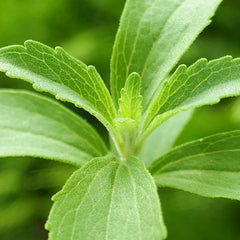 Organic Stevia (leaf)
Nature's sugar substitute, stevia leaf is typically used as a no calories sweetener.
Frequently Asked Questions
What is 'metabolism'?

It's the process in the body which changes food and drink into usable energy.
How can I support my metabolism?

For starters: Flat Tummy Iced Tea. Keep in mind, each body is unique, but typically exercise, weight training, nutrition, certain foods and getting the correct amount of sleep help balance your metabolism.*
When do I drink it?

It's totally up to you, and when you want that extra metabolism support. We like to take it first thing in the morning to kickstart our day.*
What's the difference between this and Flat Tummy Tea?

In short: It's not a detox. Flat Tummy Iced Tea works to support your metabolism, digestion and energy, while being served over ice. If you want something that does all that, but also helps to cleanse your colon,

try Flat Tummy Tea

.

*
What kind of results can I expect?

Typically women feel their metabolism and digestive system working more cohesively and efficiently. Don't forget to pair this blend with a healthy diet and exercise to support your weight management goals.*
Can I use this with blood pressure meds?
What's in Flat Tummy Iced Tea?

Our Proprietary Cleanse Blend consists of Green Tea (leaf), Ginger (root), Green Rooibos (leaf), and Peppermint (leaf), with added Natural Lemon Flavor and Organic Stevia (leaf) for flavor.
Do I have to workout?
Love love love this product. I tried a while ago but wasn't that serious with using it as directed so I didn't see extreme results. I decided to try it again with the buy one get one free promo that was going on (and also purchased the iced tea) and I love it! I normally have issues with extreme bloating and have a slow metabolism and this works amazing…. I do notice a difference in how I feel. I will definitely continue to use this! Keep the promos coming!

Vcoluccii

Amazing and effective teas! I've loved the cleanse teas and iced teas that I've ordered in the past! They leave me feeling clean and refreshed!

Kyler

The best! I just would like to say the METABOLISM SUPPORT ICED TEA, is so refreshing and you do not need to add any sweetness to it, it has a very tropical taste & very crisp.

Jazme

I'm obsessed with the iced tea! It's my go to summer drink and helps me feeling refreshed and energized

Sara

Flat Tummy Teas work💪I follow the AM/PM teas and am obsessed with the Metabolism Support Iced Tea - Tastes so good on a hot day and does what it says!

Shana
Taste Great
Taste Great. I haven't yet noticed any inch loss on the waistline. I do enjoy the ice tea.
If only I could give zero stars this is the worst product ever it doesn't work and it taste horrible
Looking for something else?