Maximizing Your Flat Tummy Shake Results
Posted by Shelby from Flat Tummy Co on
With sooo many women smashing their tummy goals, here at HQ we get so freakin' PUMPED seeing our babes' progress! Now that your Weight Management shakes have arrived, we know you're keen to get started and maximize those flat tummy results, so let's get started with our best tips and tricks here below! #bringiton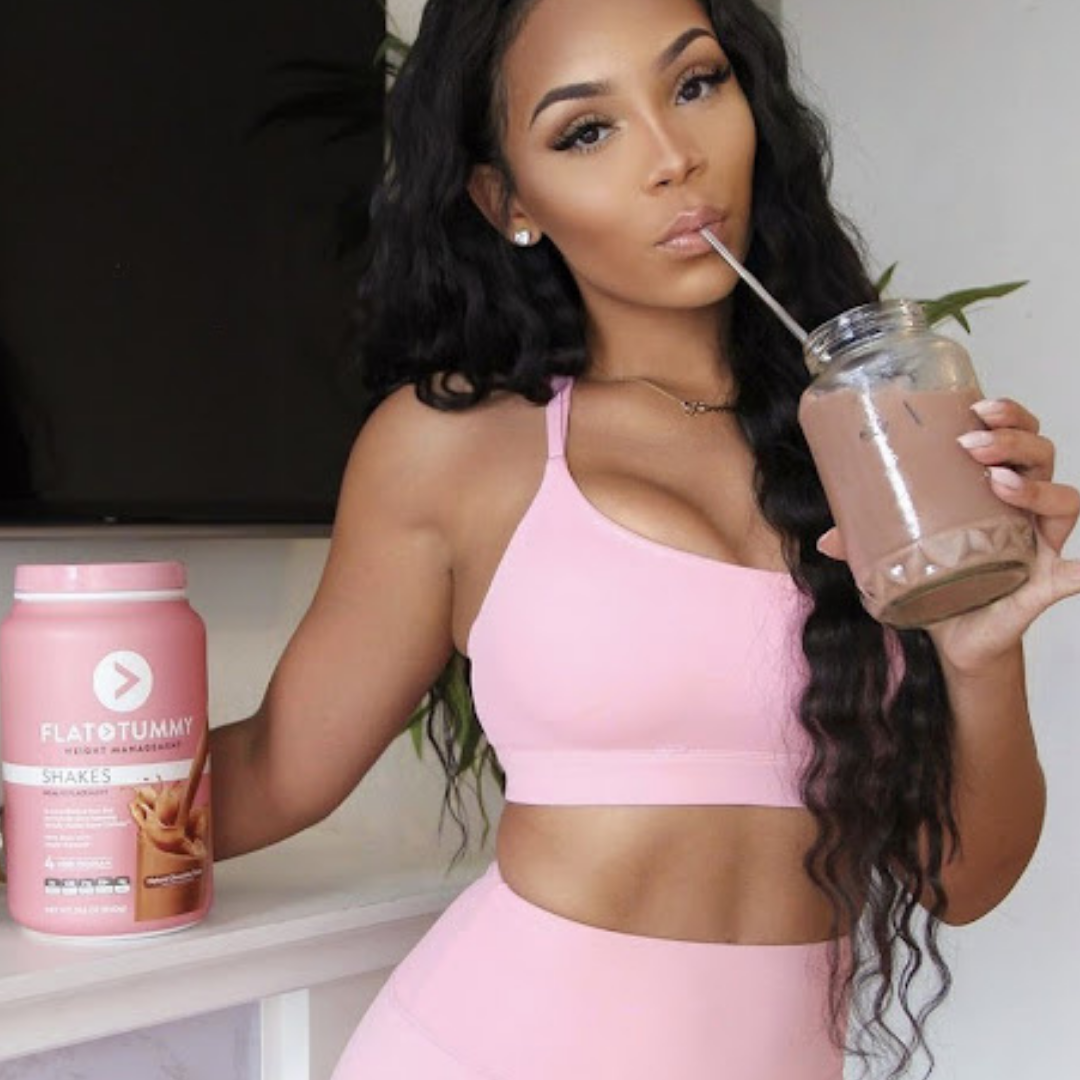 How to Shake It Up!
We've designed ourWeight Management Shakes to be used once a day, Monday-Friday, with the weekends off to let a little loose! Our shakes are also super easy and quick to make. All you need to do is measure 2 scoops of your Flat Tummy Shake powder, shaken up with approximately 10 ounces of cold water (the colder, the better). It's literally that easy to shake it up with us!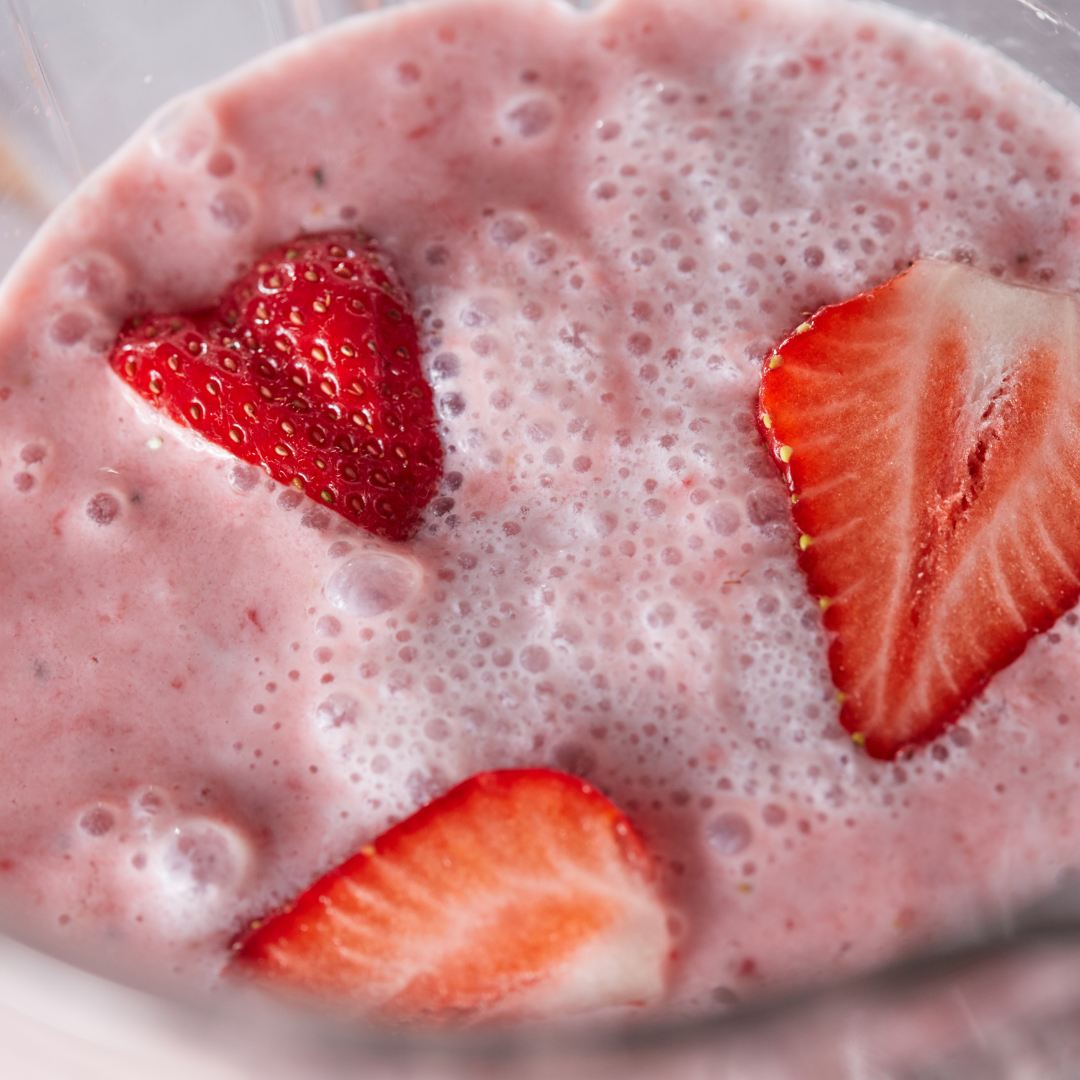 Experiment with Liquids
Everyone's taste buds are a little different and we've found that the right amount and type of liquid varies from babe to babe. Our Flat Tummy Shakes are created with vegan protein, and we find Almond Milk makes one of the best substitutions for water. Alternatively, we recommend any plant based milk, such as soy or coconut. You can totally use more or less liquid than the recommended guidance and find what works for you. Check out some of our fav recipes here.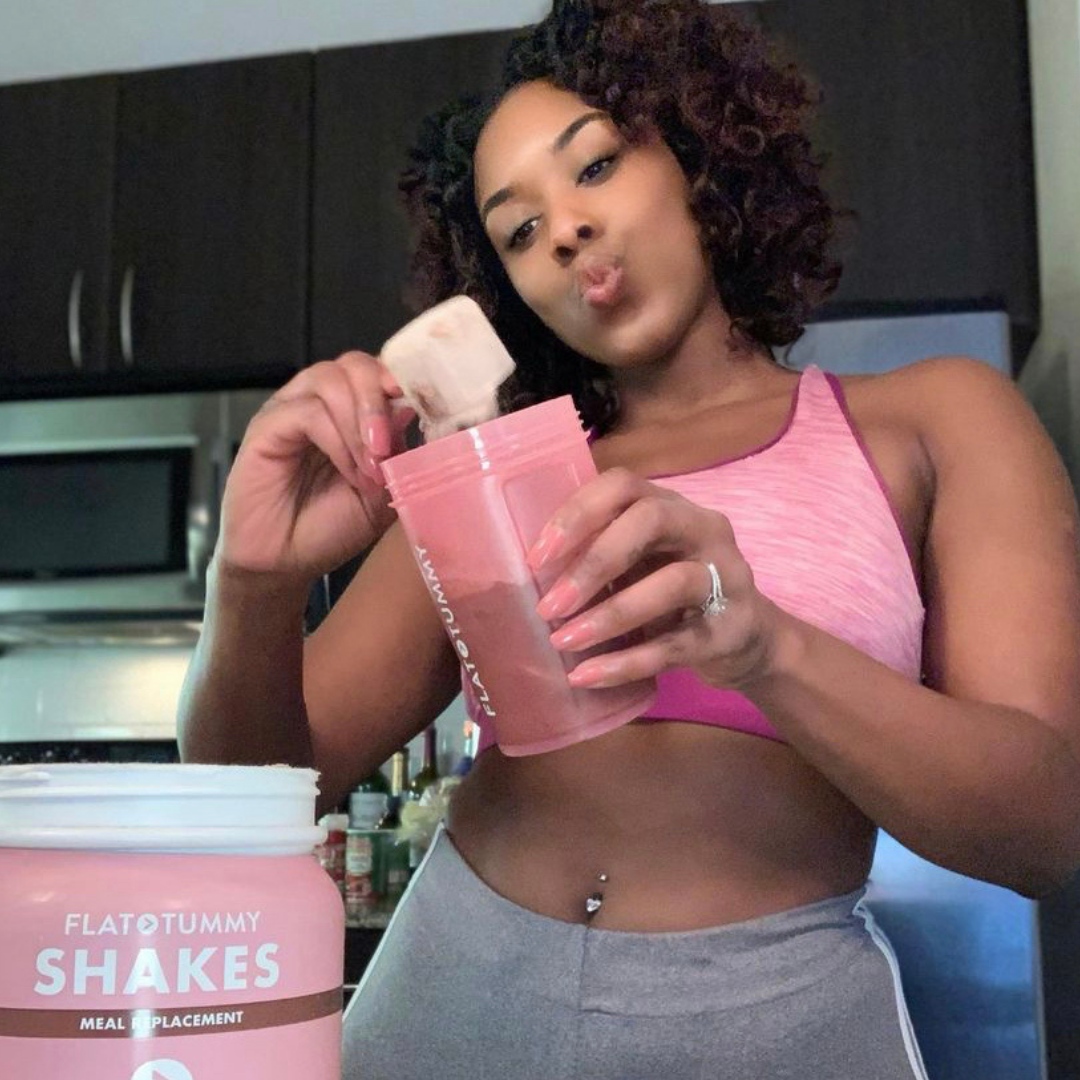 When Should I Drink my Shakes?
We suggest switching out breakfast with your daily shake, though they can work to replace any meal in your day. The reason we recommend breakfast is to get your metabolism and energy going for the day ahead. Also doesn't your morning with something tasty! We have loads of everyday tips to help you make the most of your program here.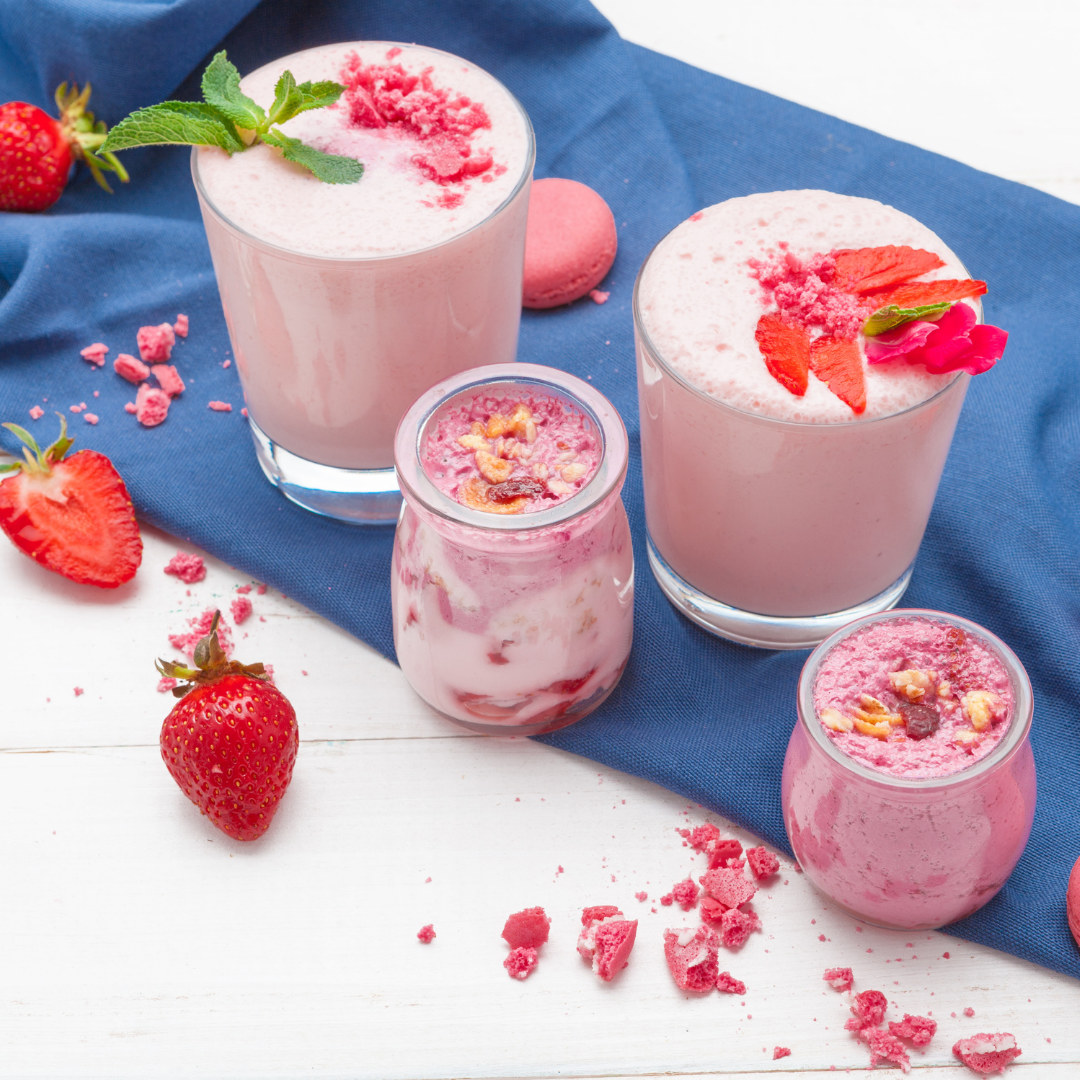 What Should I Eat While on my Program & Do I Need to Work Out?
For best results we suggest keeping your meals as healthy as you can, while keeping up with a regular workout routine. Remember there's no need to go crazy, we're all about balance, girl! The best tool to help you stay on track with your tummy game plan, along with your shakes is our FREE Flat Tummy App. This is our fitness and nutrition app, created by women for women, looking to start and maintain a healthy lifestyle. We hook you up with over 450+ workouts, 1000+ recipes, and meal plans designed for all different diet types. click here to have this game-changing tool in the palm of your hand now.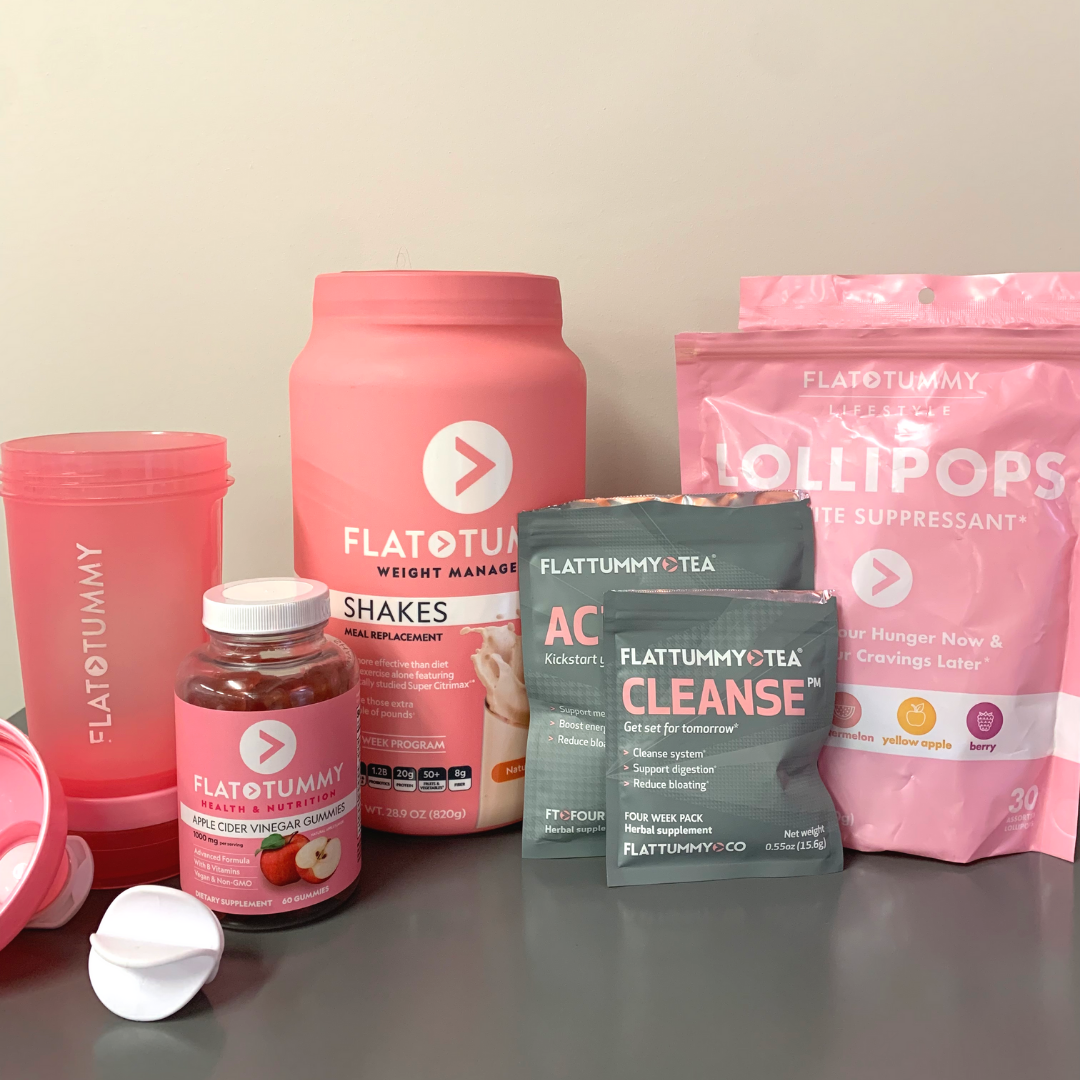 Bundle It Up
All of our FTCo products are designed to work together, to help you look and feel your best. Our Ultimate Bundle is the entire package designed to get real results and get that tummy back to flat! While our Flat Tummy shakes work to cut cals, our Flat Tummy Tea helps to reduce bloat, our Appetite Suppressant Lollipops work to kick cravings and finally our ACV Gummies help to support weight management.* PLUS our Ultimate Bundle is where maximum results meet maximum savings! 
For 30% off our bundles to maximize those shake results, check it out here!
Track Your Progress
Now that you've set your personal goals, you're ready to get into that new workout and healthy eating routine. You've signed up on our App to get your meal plan, your workouts, your motivation and all you need to get started. But how do you make sure all this prep will help you move toward your goal? remember, the scale doesn't always tell the whole story! Best advice we have is taking your before photo right away (before your first shake) and keeping up with taking your progress photos along the way. Small changes can be hard to notice when you're knee deep, BUT those progress photos help you take a step back and really appreciate how far you've come - no matter the progress! Finally, once you've taken those progress photos don't forget to share them with us - nothing better than sharing those killer results with the squad!
So no matter your goal - we've got your back with our Flat Tummy Weight Management Shakes. With a tummy game plan this strong, you'll be crushing those results in no time and we're 100% here for it!