Flat Tummy Tea Review + Results
Posted by Adrian Ryan on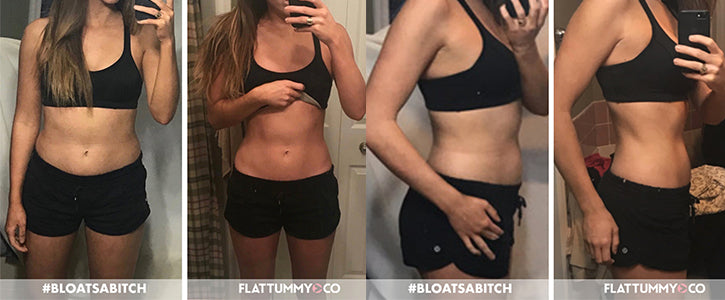 Flat Tummy Tea Review + Results
Hey ladies, I'm Shelby! And I figured since I've done a few Flat Tummy Tea programs, I'd give you the ins-and-outs of it.
But first, let me give you a little background info on me. I've had a pretty sensitive stomach for as long as I can remember. If I had a bad stomach ache, all I had to do was tell my Mom and I'd get to stay home from school. Sometimes when we drove home from restaurants, I'd have to undo my pants because the pressure on my stomach was too much.
When I was younger, I didn't realize how much stomach bloat affected my life. I mean, crawling into bed each time I got a stomach ache was actually a feasible option back then.. So it really didn't seem thatttt bad. But now that I'm older, I definitely can't be calling in sick to work for a tummy ache. So I started cutting out a variety of things from my diet - gluten, dairy, peanut butter, all kinds of things! But if you've ever tried to cut out things to your diet, you know its a pain in the a**.
So after seeing Flat Tummy Tea all over my IG feed, I decided to just go for it. I bought the Four Week Flat Tummy Tea program to start. It didn't seem too daunting. A cup of Activate Tea every morning, and Cleanse Tea sometimes before bed. I started with the minimal infusing time of 5 minutes (I wanted to play it safe, incase my stomach decided to go rogue).
It took about a week or so of using Flat Tummy Tea before I started seeing and feeling the affects. I made myself drink the 6-8 glasses of water a day and at first, I felt more bloated than usual. But I stuck it out a bit longer, and this stuff really started to work. If I'm bloated before bed (aka after a big meal), I have my Cleanse Tea and I'll wake up feeling refreshed/light again. My clothes just started to fit better, and my tummy became more regular.
You could say I'm pretty much hooked, cause I went ahead and grabbed the Subscribe & Save program. A two step tea that helps keep my stomach on track annnnd at a discounted price? Yes, please. Bonus points cause I still get to enjoy a wide variety of food - which we all know was the real selling point.
So if you're unsure, and don't know if it'll work for you. Just know I felt the same way, and decided to go for it anyway. And I'm glad I did, cause it works for me and I'm obsessed!