Which Shake Flavor Are You?!
Posted by Nicole from Flat Tummy Co on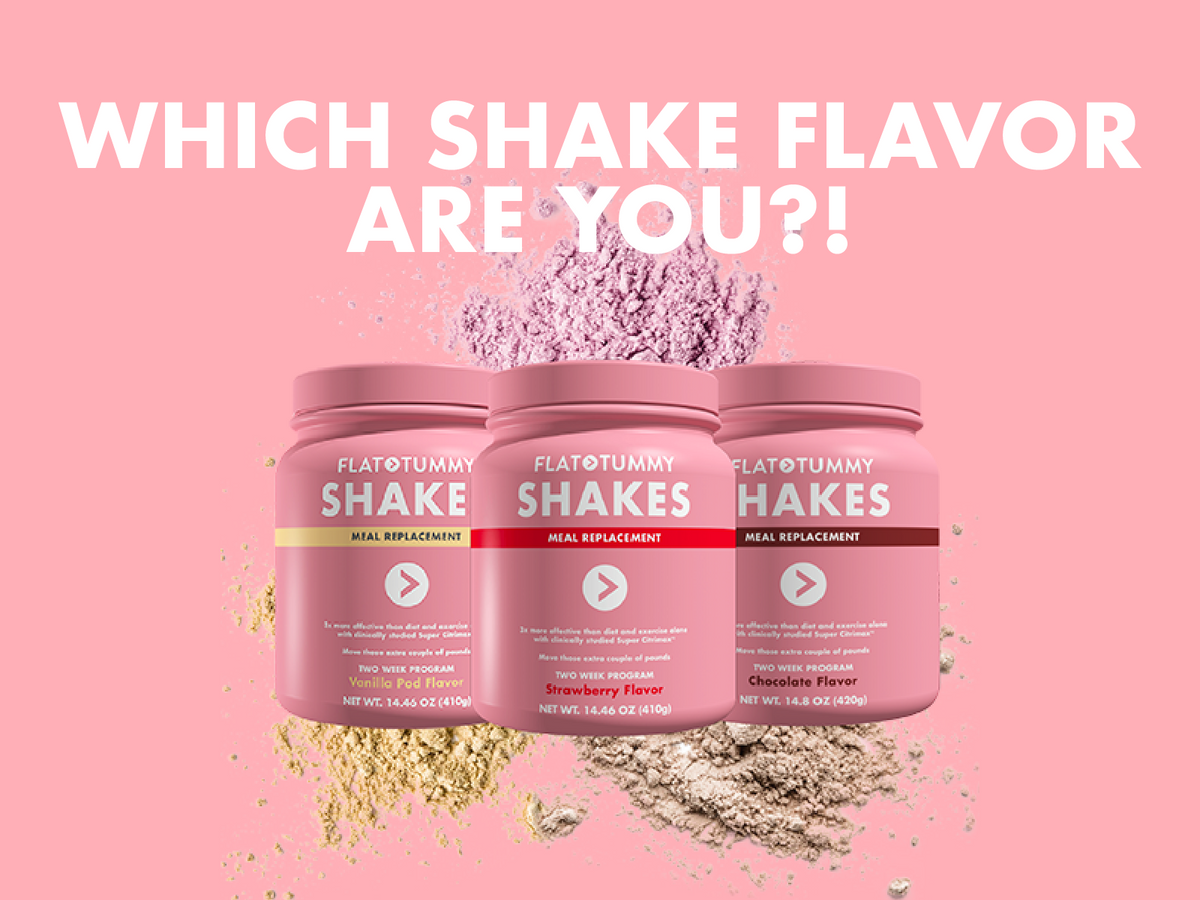 TAKE THE QUIZ!
We get asked A LOT which Shake flavor to start with. So, we got our girls at HQ to put together a short quiz to see which flavor you are and hopefully give you a little help to get started! It won't take long, so grab a pen and tally up your answers (a, b, or c) as you go!
1) Let's start things off easy, pick a color?
a) Yellow
b) Pink
c) Blue
2) Are you a morning person?
a) Yes

b) No

c) Sometimes
3) If you had to choose a season, you'd pick?
a) Summer - Duh, easy question! Who doesn't love Summer??

b) Fall - Bonfires, hot drinks and warm blankets, my fave!

c) Winter - Race ya to the slopes!
4) OK, OK, OK..It's Summer, you're out with friends, your go to drink is?
a) Yuuuumm...Sangria

b) Any Cider 

c) That NEW Cocktail you've been dying to try
5) Alright, next question. What's your go to movie genre?
a) 

Uh, comedy! Gimme the giggles.

b) Romance! Who doesn't love a good love story?

c) Horror or Action … seriously what's the point of a movie if it doesn't keep you on your toes?
6) Sidekicks: We've got em'! Quick, pick!
7) It's finally the weekend! Your plans are?
a) 

Text your girlfriends to make plans

b) Binge watch your fave Netflix show

c) Hop in your car and go on an adventure
8) You open Facebook, the first thing you see is
?
a) 

A photo your bestie tagged you in, awww

b) The funniest meme… Def sharing!

c) A Flat Tummy Co Contest you just gotta win!
9) You've got your headphones in, you're most likely listening to?
a) 

My fave song on replay...DUH!

b) Nothing lol, I just don't want to chat

c) Hmmm, either a podcast or a new playlist
10) Matching GYM set? Cute or not?
a) 

Gym set?? I'm okay with just my leggings

b) Doesn't matter as long as it's cute

c) H*LL YA and matching shoes too!
11) OK, OK, last question! After a loooong week the place that makes you feel most relaxed is?
a) 

A bubble bath with a face mask and glass of wine

b) The beach or lake. I love being surrounded by nature

c) The gym or my fave sporting event
____________________________________________________________________
*If you picked mostly

A

's - YOU GOT VANILLA! *
You're a basic babe and we wouldn't want it any other way! You stick to the basics and know what you like. You're sweet, lovely and dare we say… a little bit predictable! Whether you're shakin' your flat tummy shakes up with water or adding in that little extra kick, you always know exactly you to shake it right. Check out our recipes page for some YUMMY Vanilla Shake ideas.
*If you picked mostly

B

's - YOU GOT STRAWBERRY! *
You're sweet, wholesome and easy going. Whether it's watching your fave show on Netflix or having drinks with the girls, you're always down for plans or just kickin' it back and taking things easy. You're a babe who doesn't mind taking things how they come and going with the flow! Check out our blog for some delicious Strawberry Shake ideas so your shakes can be next level.
*If you picked mostly

C

's - YOU GOT CHOCOLATE! *
Who doesn't love Chocolate and who doesn't love you? You're a babe who likes a good adventure and is always on the go. Whether it's jammin' to your new playlist or sweating it out at the gym in your new outfit, you're a babe who is always ready for fun. Check out our blog post for some yummy Chocolate Shake ideas to really take your taste buds to the next level.