Which Bundle Is Best Suited For You?
Posted by Shelby from Flat Tummy Co on
Find Your Perfect Bundle!
The only thing better than one killer product is a whole bundle of em'. Our product line is full of kick-a** programs designed to work together for optimal results!* Depending on your personal goals, the bundle best suited for you is going to vary. Below we've broken down our top 5 bundles, so you can find the one that aligns best with your goals.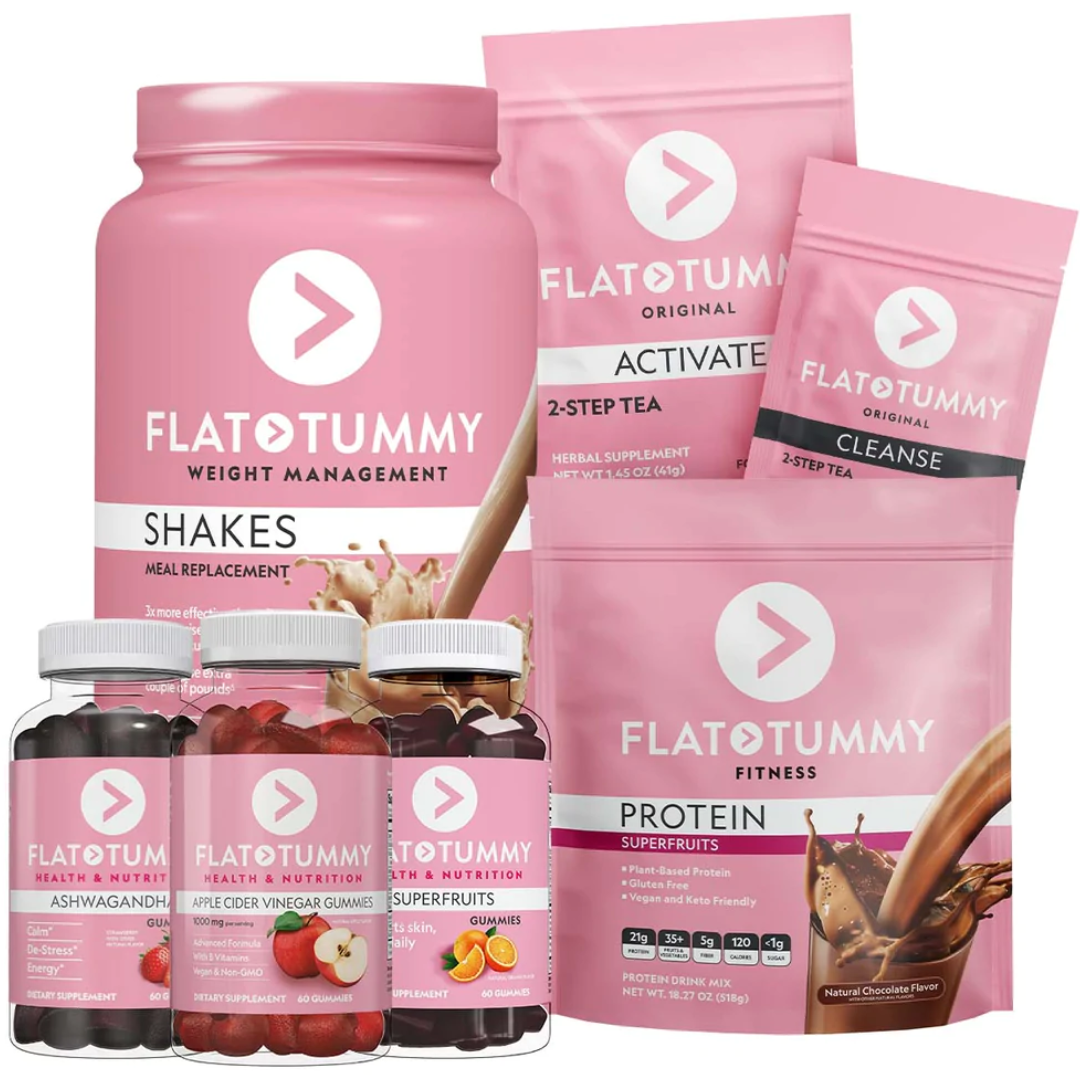 Ultimate Bundle
WHAT'S INCLUDED: Weight Management Shakes + Detox Tea Program + Superfruits Protein + Apple Cider Vinegar Gummies + Superfruits Gummies + Ashwagandha Gummies
To sum it up nicely, this is where maximum results meet maximum savings. It's definitely what we recommend using if you're taking your health kick seriously, and really pushing to make a lifestyle change. This bundle starts with our O.G. Tea Detox program, which works to help rid bloating in the tummy, and boost metabolism.* You'll be shakin' it up with our Weight Management shake (flavor of your choice), which help move the stubborn lbs from your waistline.* Next up is our Superfruits Protein, to help you stay on track and help you feel good about what you're drinking. Our best-selling Flat Tummy ACV Gummies come in hot, helping with all of the above, plus a healthy gut and complexion!* Our Superfruits Gummies work to help maintain your skin, gut and daily health!* And lastly, our new Ashwagandha Gummies to help reduce symptoms of everyday stress, fight feelings of fatigue and support natural energy levels.*
Get your Ultimate Bundle with 30% Off by
clicking here.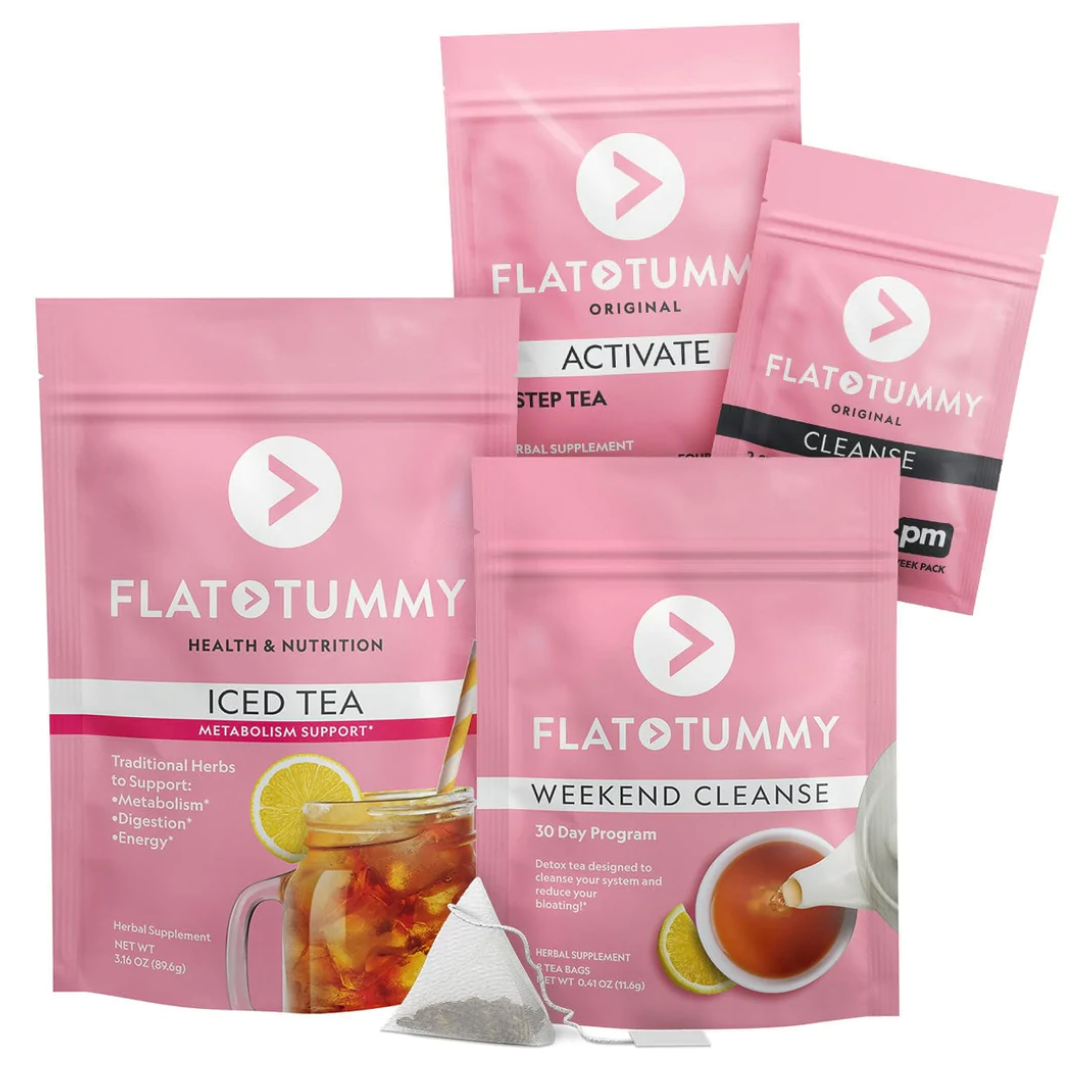 Detox Essentials Bundle  
WHAT'S INCLUDED: Detox Tea Program + Weekend Cleanse + Metabolism Support Iced Tea
Feeling blehhh and looking to kick that lower tummy bloat? Look no further than our Detox Essentials Bundle! It contains our three metabolism-supporting, cleansing and energy-boosting tea programs. First, our go-to and best-selling Original Detox Tea program to help you stay flat throughout the week.* Second, we have our Weekend Cleanse program, so you can continue crushing bloat on the weekend. Lastly, sometimes you just need that extra metabolism boost, and we've got you covered with our Metabolism Support Iced tea. It's SO refreshing! 
Grab yours now for 30% off HERE!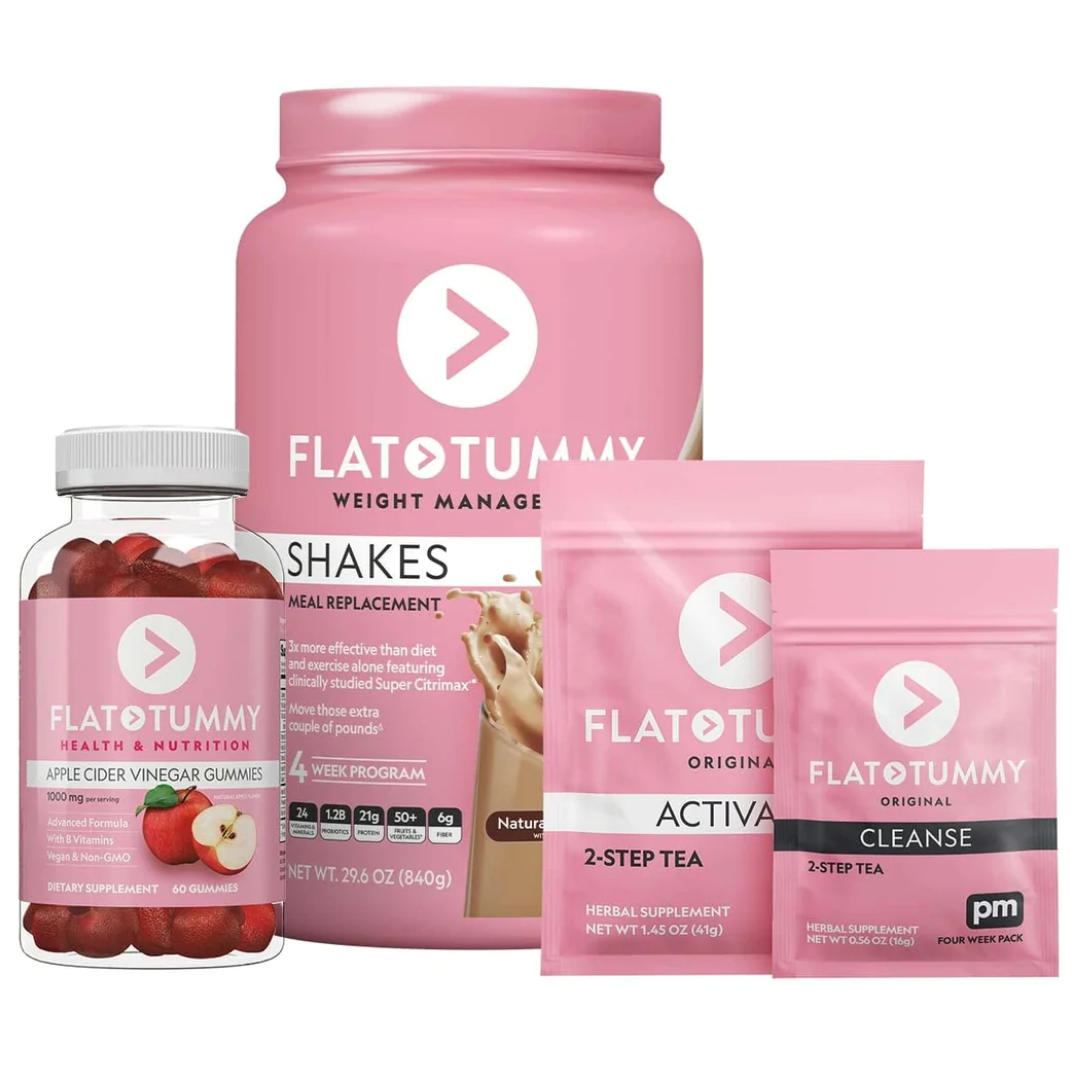 Triple Threat Bundle
WHAT'S INCLUDED: Weight Management Shakes + Detox Tea Program + Apple Cider Vinegar Gummies
If you're looking to specifically target your tummy, you'll want to grab our Triple Threat Bundle.* It's jam packed with the 3 necessities for getting back to flat.* Weight Management shakes target extra LBS around the waistline, while our Detox Tea works to reduce bloat, finally our ACV Gummies help slim the tummy - all and all, these 3 together mean business.*
Target your tummy back to flat with 30% Off by clicking here.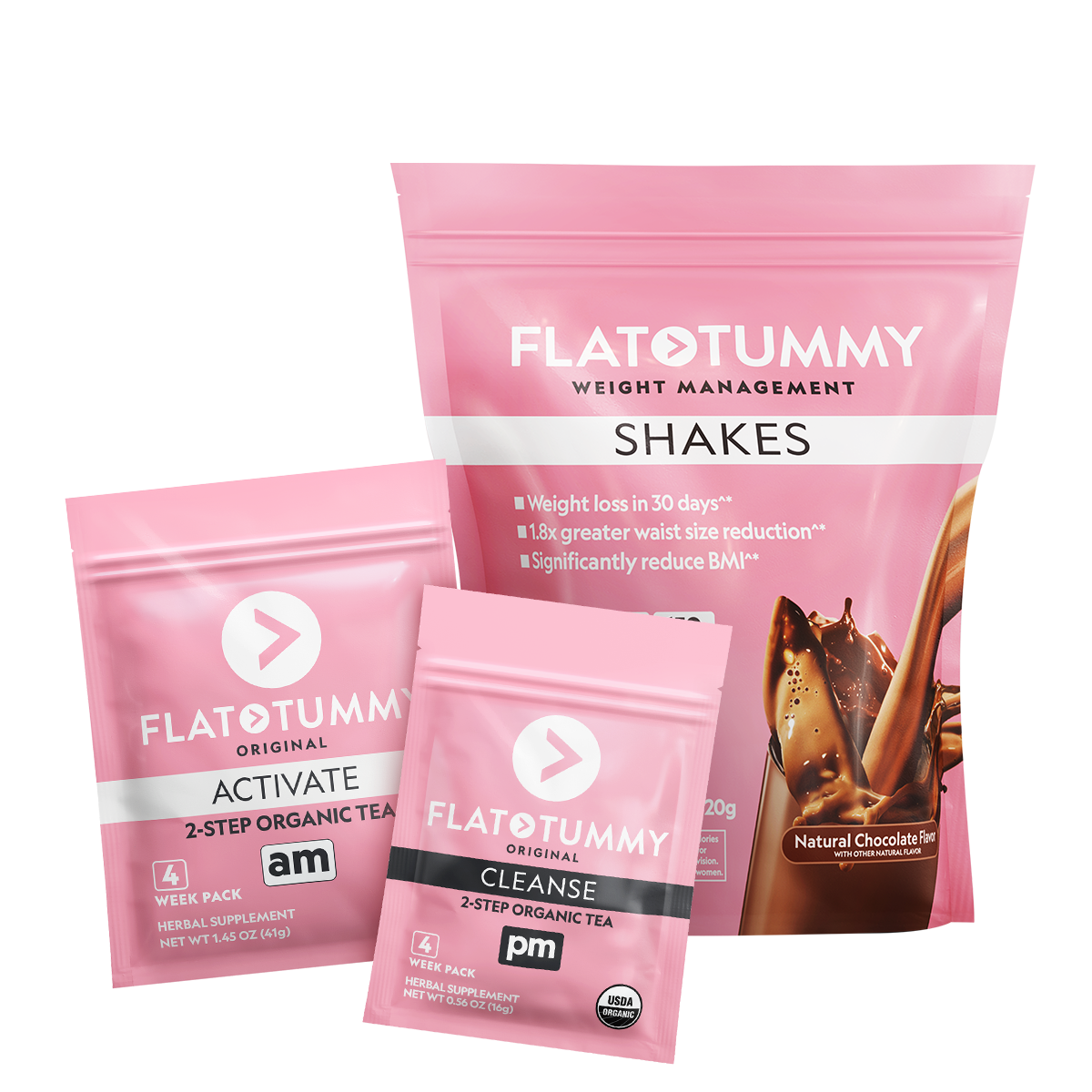 Essential Bundle 
WHAT'S INCLUDED: Weight Management Shakes + Detox Tea Program
Looking to start off with a slightly smaller bundle? We've paired up our best sellers for just that - our Essentials Bundle! This hard working bundle includes our #1 Detox Tea program and our Weight Management shakes (flavor of your choice). You know the drill - our tea program works to target that bloat in the tummy, naturally boost metabolism and energy.* While our shakes help move the stubborn extra lbs, support weight management, and keep you feeling fuller longer.* All this in two bomb products - that's how we roll here at HQ!
Get yourself back on track with 30% Off by clicking here.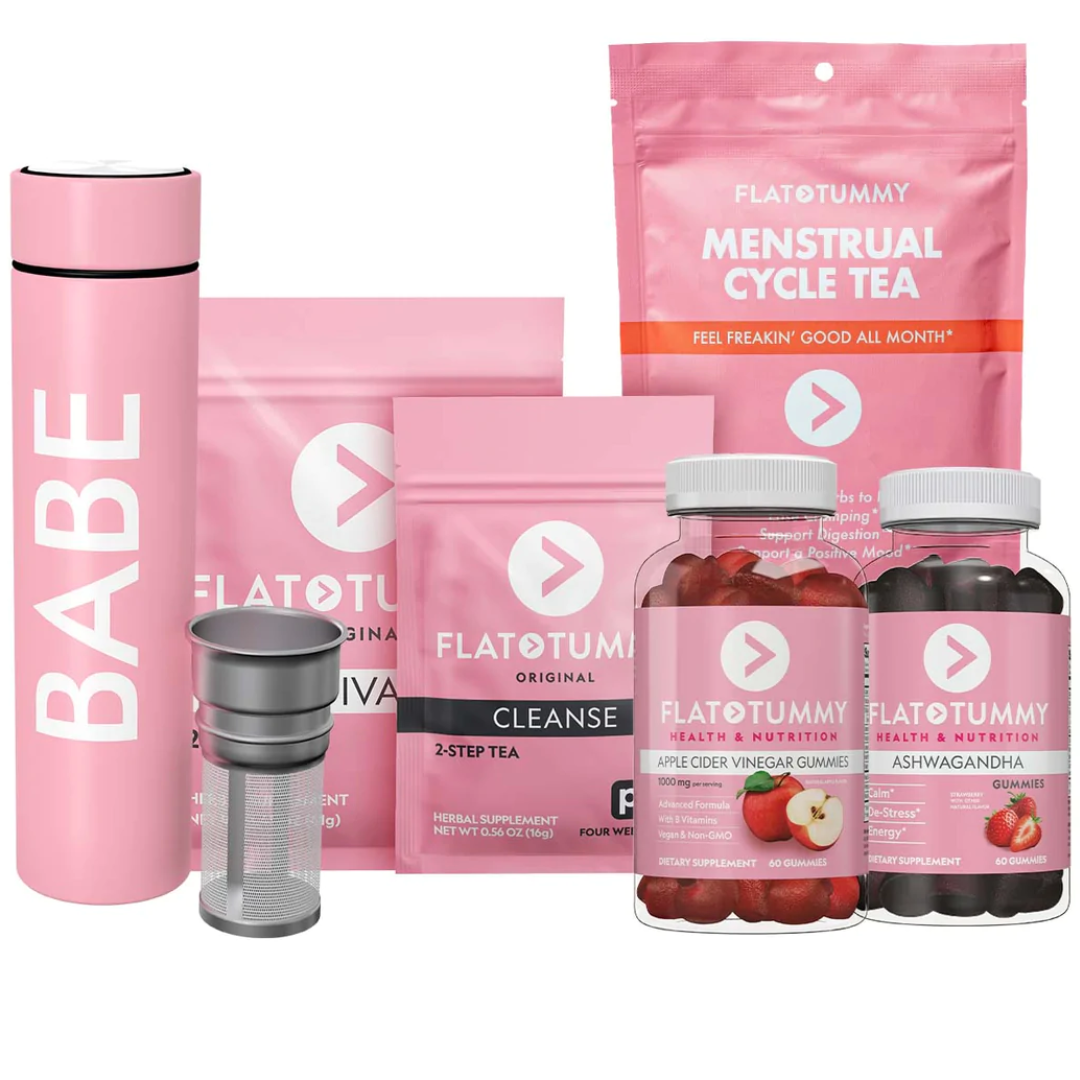 Beat the Bloat Bundle
WHAT'S INCLUDED: Detox Tea Program + ACV Gummies + Menstrual Cycle Tea + Tea Infuser + Ashwagandha Gummies
Maybe the biggest issue you're facing is that darn bloat! Our Beat the Bloat Bundle is key to waving bye-bye to the bloat, even during that time of the month.* You'll get our #1 Detox Tea program, which you'll be able to steep inside your vacuum sealed Babe Infuser. It's designed to keep drinks cold or hot for up to 9 hours! You'll also receive our ACV Gummies, that work to help with sooo many benefits, including weight management, gut health, reducing appetite, boosting energy, and helping your complexion!* You'll also receive our Ashwagandha Gummies, which contain Triple-Action Formula: Sensoril®, L-theanine and lemon balm are all ingredients traditionally used for relaxation.* Finally, you will receive our super tasty Menstrual Cycle Tea - which helps support digestion, ease cramping, and support a positive mood.* 
Get your backup against bloat with 30% Off by clicking here. 
Women's Gummy Essentials
WHAT'S INCLUDED:  2 x Apple Cider Vinegar Gummies + 2 x Superfruits Gummies + 2 x Ashwagandha Gummies
We've got all your Gummy needs covered with our Gummy Essentials Bundle! We've paired up our best selling Apple Cider Vinegar Gummies with our Superfruits and Ashwagandha Gummies to help you keep on track of your daily health.* Our ACV Gummies help support weight management and boost energy. Our Superfruits Gummies contain collagen building ingredients to help with healthy skin and antioxidants to support gut health.* While our Ashwagandha Gummies help combat stress and fight fatigue.* BONUS all three gummies are vegan, gluten-free, and gelatine-free! Take 15% Off by clicking here.
Okay ladies, now that you've got the full run down on our top selling bundles, it's time to get your order in (BONUS they're up to 30% off). With quick delivery you'll be on track with your programs in no time. No matter which bundle you choose, you'll be feeling like the 12/10 you truly are!*
Choose your perfect bundle and get started with us now.