Struggling To Drink Enough Water?
Posted by Shelby from Flat Tummy Co on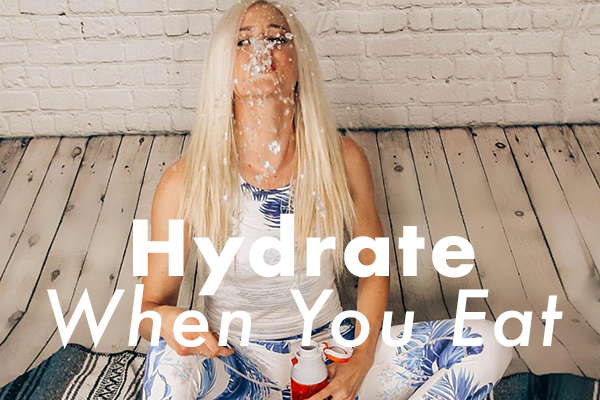 Drinking enough water throughout the day can be hard. We do our best to set hourly alarms, daily goals, and to keep a water bottle with us everywhere we go. But some days drinking enough water seem like a bigger struggle than others. That's why it's important to know which types of foods are out there to help hydrate your body. Cause let's be real… we can always eat.
5 Foods To Help You Hydrate
Since you're adding at least 10 ounces of cold water, coconut milk or almond milk to your Flat Tummy Shake - you've increased your liquid intake. You can always add more than the recommended amount! This is a super easy way to get your hydration up and your nutritions. 
2. Oatmeal


Alright. Don't hate on oatmeal, ladies. Nobody said you had to eat it plain and boring (but if you want to, that's totally A-OK with us). Whipping up some raw oats and hot water in the AM is a great way to keep you feeling full and to up your water intake right away. You could always try adding some peanut butter and banana if you don't like it plain!
3. Watermelon


Did you know watermelon is made up of mostly water? Yep, about 92%. So it's an easy thing to have cut up beside you at the office, and snack on throughout the day. But fair warning… Good luck keeping your co-workers away from it! 
4. Celery


We know this sounds boring, but keep in mind these are foods to help you hydrate when you don't feel like drinking all your water. Celery is a great way to satisfy that "want to eat" craving, but also keep you hydrated. You could even cheat and add some all natural peanut butter.
5. Spinach


Spinach is great for us - most of you know that by now. But what you decide to add to it is important. So next time you want a spinach salad, keep in mind cucumbers, radish, bell peppers, and strawberries are all filled with high-water content and will help hydrate your body.
So next time you realize you're slacking on your water intake for the day. Try adding some of these fruits + vegetables into your meals!