Tummy Bootcamp - The Final Challenge
Posted by Valentina from Flat Tummy Co on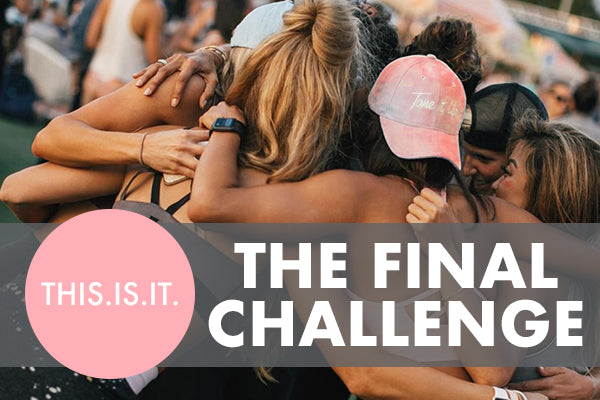 THE FINAL CHALLENGE
BABES, it's the last freakin' week of Tummy Bootcamp. Don't believe us? Just checkout how good your tummy's looking. Pretty damn good, hey? BUT Bootcamp isn't over just yet, babe. We still have some work to do!
So here's the deal. THE CHALLENGE is to do something active with your squad and just enjoy yourselves.
We know it's hard to rally your whole squad when drinks aren't involved.. But who said you can't share some drinks afterwards? #justsaying. Buuut, incase you need a couple ideas to pitch to the girls, we're hitting you up with some of our fav group activities!  
1. Babe'in Stations.

It's pretty straight forward to organise this. Every station is a different workout, and you do it for about 30-60 seconds before switching. It's totally up to you and your girls what you want to do (high knees, crunches, push ups, squats etc). Best part? We end up getting pretttty competitive over here at HQ, and in those 30 seconds we actually work us out harder than we would solo.
2. Ballin' Babes.
So get this. Grab the girls, grab a ball, grab a speaker and have a throwback. Yep, a throwback. Play the top hits from the 90's and jam to all the lyrics. Meanwhile you'll be tossing the ball back and forth to work in some exercise. Butttt, incase it's not already obvious... the real workout comes from belting out lyrics from the bottom of your hearts.
3. Babes that Ride.
It's super easy to do a casual group bike ride and still manage to dish the gossip with your girlfriends. If you don't have a bike, no problem. Generally any city has a place to rent bicycles and it's typically pretty cheap (definitely cheaper than a girls-night-out). Annnnd it gets better. Riding a bicycle actually work out those butt muscles… Sooo, you can thank us later for this one.
Now that you've got some idea of what we're looking for, it's time to rally your troops. Remember babe, THIS IS YOUR FINAL CHALLENGE. So make it count, take a photo with your stripes and send it our way. We love to see what our Bootcamp Babes come up with!