TUMMY REDEMPTION CHALLENGE
Posted by Valentina from Flat Tummy Co on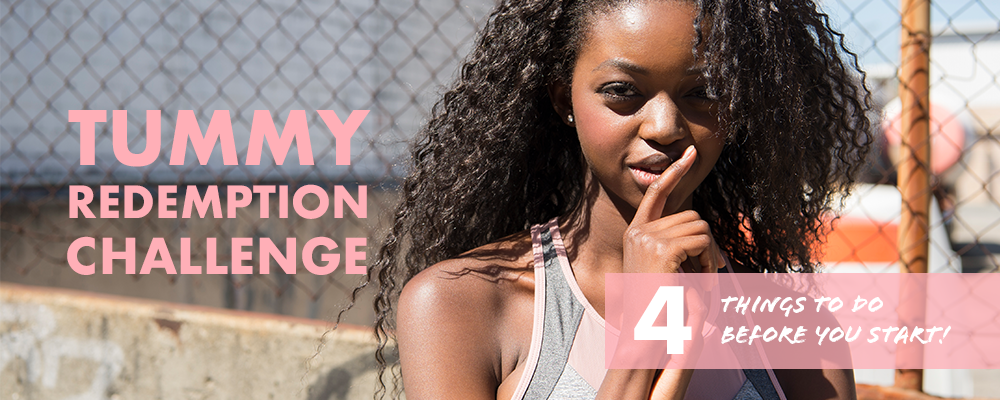 4 things to do before you start.
We've all been there. Starting a challenge only to realize on Day 1 of the challenge, you're not organized. You've probably already messed up by 11 o'clock in the morning, and next thing you know you're 3 weeks into the "challenge", that you never actually started properly in the first place. Well, babes… not this time around. The tummy redemption challenge is about to go down, so we've put together 4 things you need to do before you get started.
1. Clean out the fridge
Trust us, babes. We know it's tough… but it's gotta be done. Cleaning out your fridge is one of the best ways to stop your future bored self from undoing all the hard work you've been doing. We all love a little late night snack, don't get us wrong. But guess what - in a week and a half when you've been absolutely slayyyying your tummy redemption challenge, and it's 10:30pm, you're on the couch, and craving something super SUPER treat worthy… you're gonna get up, walk over the fridge and…. BAM. No naughty #whoops moments (but maybe some healthy snacks you've left yourself).
2. Buy a new water bottle

Part of the tummy redemption challenge means seriously paying attention to how much water is going into your body. Whether you're trying to kick bloat's ass, or move those stubborn LBS - you need to start with kicking your metabolism into gear. If you're like a few of us at Flat Tummy HQ and you're not a big water fan - do something about it. Get yourself a kick-ass water bottle, set yourself a timer on your phone for every hour, and try and push yourself to drink around 2 litres a day. Believe us… your body (and your tummy) are gonna be thankful for it.
3. Grab yourself some new gear

Flat Tummy babe #101. If you're doing a tummy redemption challenge, you gotta dress like it. And besides, this is literally the best motivation to make you want to get sh*t done. Nothing like tackling a new challenge in some babein' new leggings or a new top. When you're lookin' good and feeling fiiine, you're gonna want to get out there and show it off. Which means you're more likely to head out for a walk or actually go the gym. You know we're right.
4. Figure out your game plan

To be honest, babes… this one is really important. Part of the reason so many women don't follow through with their challenges or workout plans is because they don't really know when or where or how they're going to do something. You need a game plan. If you're doing a workout program, figure out whether you're going to do it at home, or at the gym. What are you are going to need, what music do you want to listen to, what clothes do you need to bring to work - if you're gonna hit the gym straight after you leave. All of these sorts of questions are things you need to ask yourself so you don't fall off track. It's super easy - you just have to work out what works for you and commit. And whatever you do, don't forget to take your Flat Tummy Tea or your Shake It Baby.